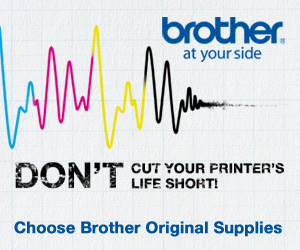 In times when budgets are increasingly tight, it could be tempting to choose low cost remanufactured or compatible supplies. However, in many cases, compatibles offer false economies.
Independent research* has shown that choosing compatible supplies over Brother Originals may cause problems such as ink drying up and leakage of inks/toners, leading to issues such as blockages and paper jams.
Over a prolonged period, this can be potentially damaging to the printer and enforce its premature replacement. There is also the warranty impact to consider – if hardware faults are attributable to the use of non-Brother original consumables, you could be charged for these repairs.
Only Brother Original supplies guarantee effortless performance, every time.
Using Brother Original supplies gives you peace of mind that your print will be of the highest quality, time after time and that you'll achieve the optimum performance from your Brother printer.
 You can get your Brother Original Supplies HERE!
*QualityLogic Laser Toner Quality/Reliability/Yield Study 2011. CharisCo Printer Labs; Ink and Durability Testing 2010. Allion Ink Cartridge Comparison Study 2011