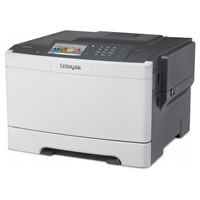 Here at Printerbase, we have yet another incredible deal – this time on Lexmark's CS510de.
This colour laser printer is specifically designed for workgroups in small to medium-sized offices – particularly those who are in need of a machine that can provide them with an unrivalled print quality.
Using PANTONE® colour matching – something that is usually found on the higher-end systems – sharp, vivid prints are delivered, while colour calibration makes it easy for this printer to accurately and consistently match colours.  Lexmark's Unison Toner also contributes to the quality, optimising your system's print performance to ensure consistency.
With a high-speed 800 MHz dual-core processor, the CS510de – which is controlled by an easy-to-use 4.3″ screen – packs a powerful performance, too – with impressive print speeds of 30 pages per minute.
It's cost-effective, too!  Automatic two-sided printing, an instant warm-up fuser and an Eco mode are sure to save you money down the line.
Now is the time to grab this fantastic laser printer, with Printerbase offering over £130 off the orginal price!  Don't miss out!
Get the Lexmark CS510de HERE!