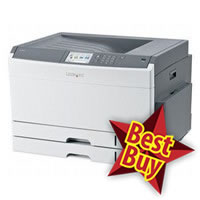 Do you need a printer that genuinely makes a difference to your business; something to make you stand out that little bit more?
There are plenty of options, but an A3 printer can always add that extra impact – particularly in terms of your marketing and creative output.
One machine we would recommend is the Lexmark C925de A3 Colour Laser Printer – not only is it great performer, but it also comes as part of a fantasic deal!
Coming in compact design, the C925de delivers outstanding A3 colour printing, easy-to-use features through the 10.9cm colour touch screen and productivity solutions.
In terms of the deal, this Lexmark machine comes with over £500 off the original price, and full-size toners (8,500 Black & 7,500 CMY pages)!
Get the Lexmark C925de HERE!