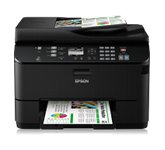 For quite some time, laser has always been the way to go for businesses that need a printer fully capable of meeting their office demands – both in terms of performance, print quality and speed.
However, this has now changed – and it's all down to Epson's range of WorkForce Pro Printers.  These inkjet machines are specifically engineered for business and designed to offer you less cost and more speed, with no compromise on quality, either.
Looking much like a laser, as well as performing like one, these reliable Epson printers offer a genuine alternative to a market that was considered closed.  Up to 50% can be saved on cost per page when compared to other colour lasers, while automatic two-sided printing also saves on paper.  With these printers using inkjets, the cost of ink is also significantly cheaper – particularly with the high-yield options.
Often, the worry when purchasing a printer that offers a reduction on costs is that the print quality and general printer performance will suffer.  That isn't the case with the WorkForce Pro 4500 Series, which delivers sharp, professional-quality prints at impressive speeds of 16 mono pages per minute and 11 colour pages per minute – more than enough for any small office.
There are five models in the versatile WP-4500 Series. Including the standard
WP-4515 DN version, all come network-ready with USB and Ethernet connectivity,
while the WP-4525 DNF provides additional fax functions. The WP-4535 DWF
has added Wi-Fi capability for secure wireless printing, scanning and faxing, while
the WP-4535 DTWF includes a large touch panel for ease of use and an additional
paper tray. For easy integration into complex IT environments, the WP-4595 DNF
has PDL support, including PCL6, PCL5c and Adobe® PostScript® 3™.
Get the Epson WorkForce Pro Printers HERE!