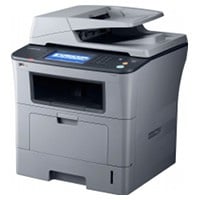 We have yet another Deal of the Week for you – and it's another fantastic deal, particularly if you need a real workhorse of a machine that does the lot in your office.
This week, we've chosen to feature the Samsung SCX-5835FN Mono Multifunction Printer!  Not only is this an impressively powerful and very capable machine, but it also comes as part of an incredible money-saving deal…
You can get a huge £650 off the original price and, on top of that, two FREE high-yield toner, which gives you 20,000 pages.  When you add that to the 4,000-page toner you get in the box already, that's an amazing 24,000 pages of toner that comes with your new printer!
The SCX-5835FN itself is the ultimate office machine that is ideal for a variety of offices – whether they be demanding or small workgroups.  Able to print, copy, scan and fax, it is durable, cost-effective and fast – not to mention the impressive quality of print it can deliver!
A fine addition to your business – you won't be disappointed! So, make sure you take full advantage of this deal – it runs out on Sunday 11th August!
You can get the Samsung SCX-5835FN HERE!