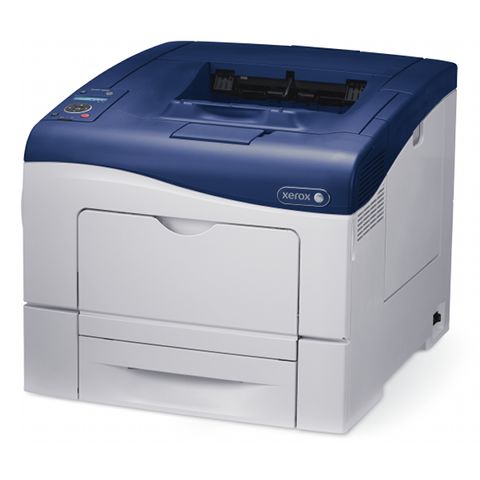 We feel that it's always helpful to hear the views of those who really matter when it comes to buying a new printer – our customers!  So, with that in mind, we've chosen the Xerox Phaser 6600dn Colour Laser Printer – a highly-rated machine, indeed!
A productive, powerful and extremely reliable device, the Xerox Phaser 6600dn has a rating of 4.5/5 stars on average from our customers – they are certainly impressed with this Xerox printer's capabilities.  And it's with good reason, too – this colour laser printer is packed with plenty of fantastic features.
Ideal for busy offices that have a demanding workgroup, the Xerox Phaser 6600dn can stand up to the fast-paced environment and deliver a consistent quality of print while doing so.
The Xerox Phaser 6600dn comes with USB and Network connectivity as standard, as well as automatic two-sided printing, which helps reduce paper usage – saving on costs – and gives your business a much more professional look.
An exceptional print quality is always delivered with the Xerox Phaser 6600dn, with bright, vibrant and vivid prints that are sure to help your company stand out from the crowd.
However, don't just take our word for it!  Check out these reviews from Printerbase customers below:
"I bought this to replace an ailing Phaser solid ink printer. At less than £200 (after the £75 cashback offer), is has to be the bargain of the century! From start-up, it took less than 30 seconds for the first page to complete. Good quality colour output and economical to run and worth the little extra amount to have the auto duplex facility. All in all a very worthy replacement!" – Rod P – Kent
"Ordered this for our Rotary charity so we could print flyers and our bulletin without paying daft prices. So far, it has been fantastic (and the price was good). It's fast and easy to install on a wired network. The WiFi option is extra. Great service from Printerbase. I've had to reinstall the printer driver once." – Gordon – Stockport
"Have purchased a number of different makes of printer but always go back to the Xerox brand. The Xerox 6600DN printer is very fast. First page is out before I walk to the printer. The print quality is excellent. The machine is quiet and the drivers are great under Windows and OS X 10.8. There are a little bit more expensive but definitely worth the extra money."  – Andrew Porter – Rotherham
You can get the Xerox Phaser 6600dn Colour Laser Printer HERE!