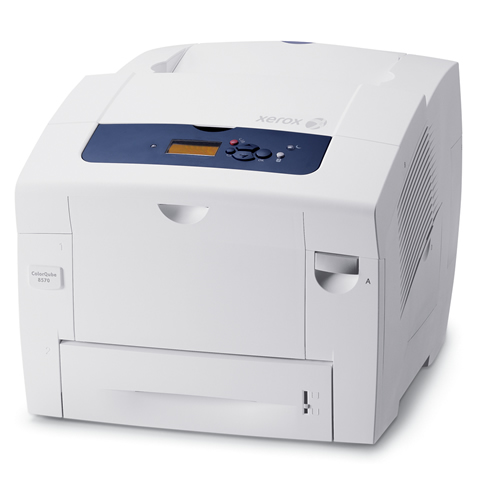 This week's Customer Favourite has been popular here at Printerbase for quite some time now, making it an obvious choice for this section – it's the Xerox ColorQube 8570 Solid Ink Printer!
Packing plenty of power and able to produce prints of an outstanding quality, as well as being environmentally-friendly, the Xerox ColorQube 8570 is somewhat of an unrivalled choice for mid-sized offices.
Your business will certainly benefit from the vibrant, vivid colours and sharp, crisp text that the Xerox ColorQube 8570 can reliably deliver – helping you achieve that distinctively professional look that every company wants.
Also, as this device uses Xerox Solid Ink, your running costs will be some of the best around – and, when you add features such as automatic two-sided printing – the savings will soon add up.
However, don't just take our word for it – our customers love the Xerox ColorQube 8570, too:
"This my first printer using Xerox's solid ink technology and I must say I am very impressed. The print quality is excellent even on cheap paper and even when there is a lot printed on the page, If the printer is already warm the first page is out very quickly, normally within 5-10 seconds. If the printer is cold it does take longer however. The solid ink is very neat and small, better by far than toner cartridges and very easy to install. The printer has been installed on the network and was very easy to setup. It has a nice built-in web interface for status and configuration. I would highly recommend this printer!" – Simon Sparkes – Taunton
"Great printer, easy to use. No messy toner catridges. Fast printing once the machine is warmed up. Really good price and the next day delivery service was amazing… Great company to deal with would definitely buy from again." – Julian – Huddersfield
"We are a fast growing small business, just taken delivery of our third ColorQube, say no more!" – Duncan – London
"This is the fourth Xerox Solid Ink Printer we have purchased over the years – previously purchased Phaser A4 colour machines. Print quality is excellent, which, as a graphic design company, is as important as cost of consumables and speed of output. Time to first page out is rapid, as is entering the Powersave mode after output. Worth investing slightly more for duplex facility which works seamlessly thanks to Xerox bundles software. A no hassle quality machine in terms of build and output – best in class for us. Printerbase price, delivery and service second to none." – Peter Bowes – Cheshire
"Best printer ever. This printer has done everything I ask of it at a very low price. The icing on the cake is the staff at prnterbase who go out of their way to help on any issues. You can buy with confidence." – D. Prior – County Durham
You can buy the Xerox ColorQube 8570 Solid Ink Printer HERE!