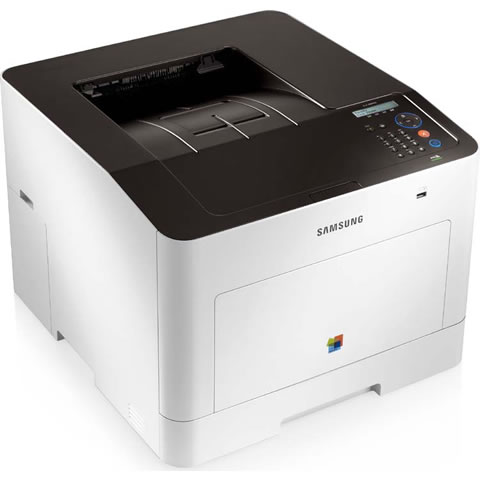 There's three simple things that are needed from your colour laser printer; quality, reliability and speed – and, according to our customers, the Samsung CLP-680ND Colour Laser Printer delivers all three!
With the Samsung CLP-680ND Colour Laser Printer, you can be safe in the knowledge that your office's printing setup is deliver fantastic prints productively.  It is the ideal device for a demanding business needing a reliable printer!
Delivering professional-quality prints at fantastic speeds, the Samsung CLP-680ND Colour Laser Printer uses Samsung's polymerised toner to give prints a bright, vivid quality each and every time – making everything that your business produces stand out from the crowd.
Also, with Samsung's unique ReCP technology, you will get a vastly improved quality of print, as well as sharper text and graphics – you won't be left disappointed, that's for sure!
Also, if you're looking to cut down on costs through your printing setup, then the Samsung CLP-680ND Colour Laser Printer is the go-to device.  With eco-friendly settings, low energy consumption and high-yield toner options, you get an exceptionally low cost for your prints.
As much as we love this Samsung printer, don't just take the word of Printerbase – our loyal customers rate the Samsung CLP-680ND Colour Laser Printer, too!  In fact, they are so impressed that they have given it an average rating of five stars out of five!  Check out what they had to say below:
"Worth every penny. I've purchased a number of printers over the years and was advised to buy this model. Very glad I did, works really well with good quality paper, sharp finish, photos very clear. Manual tray could be improved, but well worth the money." – Jim Thomson, Stirling
"Great printer. First I would like to say how pleased I am with Printerbase, especially Kara, who was very helpful and extremely knowledgeable. It is very rare to find staff with such a knowledge of the products they sell. Delivery was also next day and when I rang I was given a one hour time slot in which the printer would be and was delivered. Printer arrived four days ago, easy to set up and print quality was fantastic. Would highly recommend both this printer and Printerbase." – Steve, Liverpool
"Excellent value. This really is a superb printer, we print approximately 500 sheets per week and this printer can handle this no problem. Was very easy to set up on a network with 8 PC's. Excellent value." – Nicola, Sunderland
Want some more information about the  Samsung CLP-680ND Colour Laser Printer?  Check out our in-depth video review below:
Get the Samsung CLP-680ND Colour Laser Printer HERE!