A colour gamut is the range of possible colours that can be displayed by a screen or created by a print device. The larger the gamut, the larger the range of colours that can be displayed.
Monitors and other screens use an additive RedGreenBlue colour system that can replicate a wide range of colours.
Equally, print devices use a subtractive CMYK (Cyan, Magenta, Yellow and Black) colour system, that has a narrower colour range and is often why a printed image and a digital original do not look the same.
Additive Vs Subtractive
In an additive colour system, such as a TV or a monitor, an image is created by the screen using a series of primary coloured red, green and blue dots that emit light. When combined in different combinations and intensities, they can create a wide range of colours.
In a subtractive colour system, such as on a printed image, instead of creating colours by mixing RGB light you are instead using the existing white of the page itself and filtering/subtracting out certain colours using a combination of CMYK dots printed on its surface. As a subtractive system cannot create colours, they tend to have a smaller colour gamut than an RGB system.
How does this affect my photo prints?
So, what does this mean for your photo prints? Well, a narrower gamut would usually lead to a loss of richness and vibrancy in certain colours of your image, especially for colours at the extreme ends of the spectrum such as vivid reds and oranges or neon effect purples.
Manufacturers of high-end photo printers such as Canon and Epson combat the gamut problem by increasing the palette of colours available in the device itself. In addition to the standard CMYK colours found in all devices you will also see inks such as red, orange, vivid magenta, photo cyan, photo magenta and blues, which are designed to widen the colour range of the machine and allowing you to more accurately reproduce the colours of your digital originals.
In addition to increased numbers of colour inks, photographic printers will often make use of multiple black and grey ink cartridges too. Whilst these do not affect the range of colours a machine can produce, they do affect the quality of black shades the machine can achieve. With multiple blacks and greys, shades blend much more gradually whilst maintaining resolution – making them ideal for black and white photo prints.
For our range of high-quality photo devices, please visit our website here or contact our photo printer specialists on 0800 170 7234.
Recommended By Us – Canon PIXMA PRO-1 A3+ Colour Photo InkJet Printer
Great for colour and B&W up to A3+ size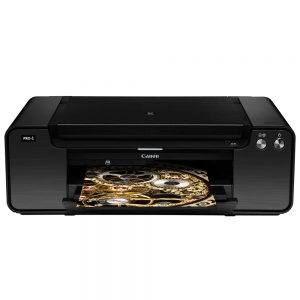 The Canon PIXMA PRO-1 is a high performance A3+ printer that produces outstanding professional prints in colour and monochrome. The Lucia12-ink pigment-based system has a wide colour gamut that produces vivid colour images, whilst the Chroma optimiser ink helps to keep an even glossiness across the entire page. The Pro 1's multiple black and grey inks also allow you to produce excellent B&W images that have smooth shades and tonal gradations.
Check out our entire range of fantastic photo printers here.