With the launch of the Samsung Galaxy S7 earlier this year, there's no questioning that Samsung is a worthy competitor to Apple as it continues to take up a large portion of market share. We wanted to make it as easy as possible for people to connect and print from their mobile devices so take a look below at our quick and easy guide to printing from your Samsung Galaxy S7.
Getting Your Samsung Galaxy S7 Ready to Print
To get started you'll need to install some software to allow your printer to connect and talk to your phone.
– Access the notification shade by swiping down from the top of the screen
– Press the settings wheel at the top of the screen
– Press more connection settings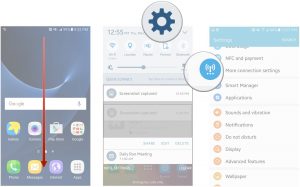 – Press printing
– Press download plug-in
– On the Google Play store, find the printer app that matches your printer and download this
– Go back two steps so you're at the printing screen and press the name of the plug-in you installed
– Toggle this to on and you're done!
One you've completed these steps, your S7 will be ready to print. Now –
– Open the document or photo you want to print
– Press share and print will be an option in this menu. If you're using a word-processing application, then print will be an option in the document menu
– Hit print in the bottom right of your screen and press print.
Images by Android Central