Apple AirPrint is a revolutionary Apple technology that allows you to print wirelessly from your iPhone, iPad, MacBook, or iPod touch to any compatible printer. Additionally, it's a simple and efficient way to print documents and photos without the need for any extra software or drivers. In this blog post, we'll take a closer look at how AirPrint works and how you can use it to make your printing experience easier.
With AirPrint technology, it's incredibly easy to print full-quality photos and documents from your Apple devices.
How Does Apple AirPrint Work?
Apple AirPrint is a technology developed by Apple that allows you to wirelessly print documents, photos, emails, and other content from your iOS or macOS device to compatible printers without the need for any additional drivers or software. It works by creating a Wi-Fi network between your device and the printer. Once your device and the printer are connected to the same Wi-Fi network, you can now print from your macOS or iOS device.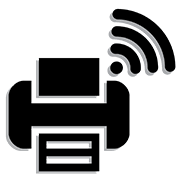 1. Connect The Printer To Your Wireless Network. 
Ensure that both your iOS device or Mac computer and the AirPrint-enabled printer are connected to the same Wi-Fi network.
This is crucial because AirPrint relies on the local network to establish communication between the devices.
2. Connect Your iOS Or MacOS Device To The Same Wireless Network.
You'll now find the Print Options in Apps. And when you try to print from an AirPrint-supported app, such as Safari, Photos, Mail, or Pages, the app automatically detects AirPrint printers on the local network. It then displays the available printers for you to select.
3. And That's It. You Can Now Print From Any Apple Device.
Once you've chosen the printer and configured the settings, tap the "Print" button or a similar option in the app to initiate the print job. The app sends the print data to the printer over the local Wi-Fi network.
It's important to note that AirPrint relies on the compatibility and support provided by both the iOS/macOS device and the printer because if either device is not AirPrint-enabled or not connected to the same Wi-Fi network, AirPrint won't work. Additionally, some older printers may require a firmware update to support AirPrint functionality.
How To Print With AirPrint From Your iPhone Or iPad?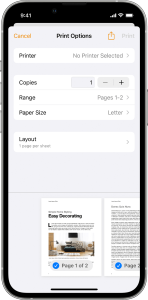 Printing with AirPrint is a straightforward process that doesn't require any additional software or drivers.
Here's how to print with AirPrint on your iOS device:
Open the app that you want to print from.
To find the print option, tap the app's Share button  or the Actions button.
Scroll down and tap the Print button or Print. If you can't find the print option, check the app's User Guide or Help section. But not all apps support AirPrint.
Tap "No Printer Selected" and then choose an AirPrint-enabled printer.
Choose the number of copies or other options, like which pages you want to print.
Tap Print in the upper-right corner.
How To Print With AirPrint From Your Mac?
Most popular printers are AirPrint-enabled, which means that you can conveniently print wirelessly to them using your Mac. Furthermore, if necessary, you can install the latest printing software that came with the printer or directly from the manufacturer's website.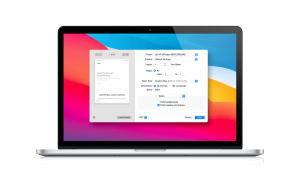 1. Make sure your printer is connected to the same Wi-Fi network as your Mac. See the setup information that came with your printer.
2. With a document open on your Mac, choose File > Print in the app you're using.
3. Click the Printer menu, and then choose your AirPrint printer.
Note: If you don't see your AirPrint printer, you can choose Add Printer from the Printer menu and add it to your list of printers. See Add a WI-FI or network printer
However, if you don't want to print wirelessly, you may be able to connect your AirPrint printer to a USB port or Ethernet port on your Mac. Check the documentation that came with your printer to see if it has one of these ports.
How To View Or Cancel Your Print Job?
To view or cancel a print job on an Apple device, you can follow these steps:
iPhone Or iPad:
On your iOS device, open the "Print Center" or "Print Queue" by double-clicking the Home button (for devices with a Home button) or swiping up from the bottom of the screen and pausing (for devices without a Home button) to access the App Switcher.
Locate the "Print Center" or "Print Queue" icon. It looks like a printer.
Tap the icon to open the Print Center.
Here, you'll see a list of your print jobs in the queue.
To cancel a print job, swipe left on the print job you want to cancel, and then tap the "Delete" or "Cancel" option.
On Mac:
On your Mac, open the "Printers & Scanners" settings. You can access it through the Apple menu by selecting "System Preferences" and then clicking on "Printers & Scanners."
In the "Printers & Scanners" window, you'll see a list of printers on the left sidebar.
Select the printer that is currently printing.
In the printer's queue, you'll see a list of print jobs.
To cancel a print job, right-click (or Control-click) on the print job you want to cancel and select "Cancel" or "Cancel Printing."
However, please note that the specific options and terminology may vary slightly depending on the version of iOS or macOS you're using.
How To Find Out If Your Printer Supports Apple AirPrint?
To use AirPrint, there are a few requirements. First, you'll need an iOS device running iOS 4.2 or later. Additionally, you'll need a compatible printer. You can conveniently check if your printer is compatible with AirPrint by visiting Apple's website.
For a convenient and organized list of printers and print servers that support AirPrint, you can click here.
Apple has compiled this list, and it's sorted by manufacturer, making it quite easy to navigate and find your specific device, if it's included.
Once you've confirmed that your printer is compatible, you can seamlessly begin printing wirelessly from your Apple device.
AirPrint Devices
Whether you're a student, professional, or simply someone who wants to print photos from their iPhone, AirPrint is undeniably a great printing solution that's definitely worth checking out.
Moreover, if you're looking for a printer that supports Apple AirPrint, enabling you to print quickly and easily from your Apple devices, our selection here will undoubtedly help you find the perfect printer: