Zebra label printers have been around for half a century now and almost every industry has been held up by their thermal label printers in some way. Whether it's a handy shipping label or a vital test subject. The Print DNA and reliable machines go hand in hand to create an often overlooked but vital part of any business.
Zebra label printers are designed to exceed rigorous quality testing standards to deliver premium print quality and superior performance. This was achieved from a range of easy to care for Direct Thermal label printers or long-lasting prints from Thermal Transfer units.
What Software Do Zebra Printers Use?
Zebra printers use their own software, called Print DNA. Simply download the Zebra utility suite and the software handles it from there. Integrating all Zebra thermal label printers and other Zebra devices with a set of built-in applications and utilities including remote management and heightened security and ongoing updates.
Integrate, Secure, Deploy, Manage and Optimize.
These are the six factors of the Print DNA from Zebra
Integrate
Effortlessly customise and integrate your printer apps for multiple environments.
Securely connect printers into cloud-based Apps. Integrate apps into these systems easily. And add labels and receipt printing to your mobile solutions.
Secure

Give your IT team the ability to uncover any potential cyberattacks.
Auto-update WiFi certificates, which means this will encrypt connections and block unauthorised users remotely.
Deploy

Accelerate fleet rollouts with an easy-to-use setup wizard which can be remotely accessed in simple steps.
No specialised knowledge is required and the wizard automatically detects your printers and creates a profile to be shared across the fleet.
Manage
Enable your IT teams to remotely and conveniently manage and maintain printers anywhere, anytime.
Minimise printer management time and costs, even assess real-time statistics.
Optimize
Offer everyone super simple, reliable printing to make their job easier.
Emulate legacy command languages, keep battery life up to date and quickly pair the printers with mobile devices.
Healthcare Printers From Zebra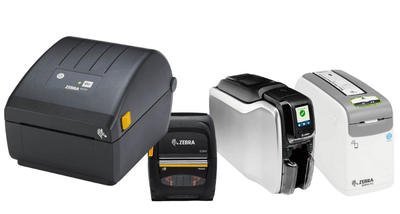 The Healthcare sector and Zebra thermal label printers seem to go hand in hand. From the recent use of labels on Covid-19 test bottles and blood samples to packing labels. However, did you know there's a wide range of other ways Zebra printers can help revolutionise the Healthcare industry?
Patient Identification through RFID Tags.

ID Badges and Access Control.
Machinery Asset Management.
Laboratory and Pharmacy Management Clearly and safely label all prescription packages or important labels.
What Printers do we recommend?
ZD220D – Simple value-range desk-sized label printer, ideal for appointment cards and 6×4″ labels.
ZC100 – Compact size with a Healthcare option, simple to Clean and makes clear, crisp cards with NFC or QR codes.
ZQ630 – Mobile printing on the go, Specimens and Tissue Labels, Pharmacy Tags and number Medical Devices.
ZD510 – Healthcare design with an easy to clean and sterilise build. Capable of printing Anti-microbial wristbands.
Retail And Ecommerce Printers From Zebra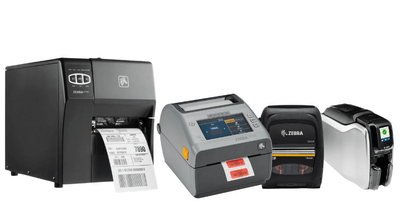 Zebra printers can be ideal in the retail, Ecommerce and hospitality sector too not only can the printer produce adhesive price tags but with an alternate roll there are endless ideas of printables:
Mobile Point of sale, having the ability to print clear, crisp receipts on demand.
Membership and loyalty cards, making a strong and sturdy card to withstand age.
ID Badges and Season Passes, keep high quality and durable cards at hand, with an inbuilt RFID tag.
What Printer Do We Recommend?
ZC100 – Print the ideal card for a Membership or ID Badge with an RFID Tag.
ZD220 – Perfect for 6×4″ shipping labels used from Royal Mail, Amazon, eBay, Etsy and more.
ZT220– Large format Deskstanding label printer for heavy-duty use.
ZD621D – Premium label printer, available in Thermal Transfer or Direct printing methods.
ZQ630 – Portable printing for on the go receipts or shipping labels.
ZC300 – Card printing for the perfect loyalty badge or price tags.
Warehousing And Transport Printers From Zebra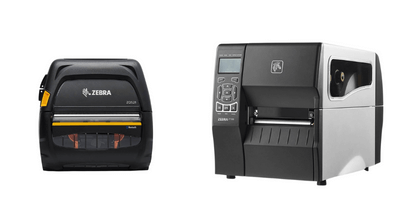 The warehousing and transport industries are probably the most common places to find Zebra label printers, due to being the only printer manufacturer currently with official support from Royal Mail provided "Click N' Drop" labels.
Inventory Management –  keep a track of all items while working hand in hand with the Zebra portable scanners too.
Proof Of Delivery – work together with the Zebra portable barcode scanner and ensure deliveries are tracked and secure on arrival.
Shipping Labels – Print crisp and clear 6×4″ labels, even use the Royal Mail provided Click N' Drop labels.
What Printer Do We Recommend?
ZT230 – Heavy-duty labels designed for industrial use in warehouses. Can print up to 1,500 barcodes a day.
ZQ521 – Portable thermal label printer, print up to 113mm wide in your hands. This can be even more portable thanks to the shoulder strap, even print in the van with an optional car mount.
Zebra label printers have been going for over half a century now. And their experience and expertise in label printing not only in one sector, but all business sectors and home printing environments are showing. So, whether you're looking for a small printer suitable for Royal Mail Click And Drop labels to get an Etsy business running. Or need a large desktop printer for ID tags, Loyalty cards and receipts. Then the huge Zebra line of printers has something ideal for you.
Print Confident, Print quality, Print Zebra.
Need Help or More Information ?
If you need any further help or more information, reach out to us by leaving a comment below or through one of the many ways on our Contact Us page.
Alternatively you can contact us by Phone on 0800 170 7234 and 0161 308 5800 or by Live Chat on our main Website Monday to Friday and our team will be happy to help or answer with any questions you might have.
You can also find all the various ways to connect with Us at the bottom of this page. Please share this post if you found it helpful.