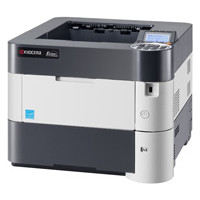 Kyocera recently added five new machines to their already stellar A4 mono laser range of printers.
The new Kyocera range consists of the FS-2100D, FS2100DN, FS-4100DN, FS-4200DN and finally the FS-4300DN. These printers boast both impressive features and functionality making them the ideal office partner. The reliability of Kyocera machines is renowned within the industry and so is their running costs, and these new machines are no exception.
Toners range from 12,500 pages to 25,000 pages giving you some of the lowest running costs on the market.
We use a Kyocera mono printer in our office and it hasn't missed a beat in the time we have used it. Keep an eye out for more updates because we plan on making a video of one of these printers in action.