HP+ for business is the free upgrade that makes your new printer even Smarter with advanced features, automatic updates, enhanced security, and much more. The HP+ smart printing system is designed to make managing your HP business printers in multiple locations effortless.
the Smart Printing system you don't have to manage.
Benefits Of HP+ For Your Business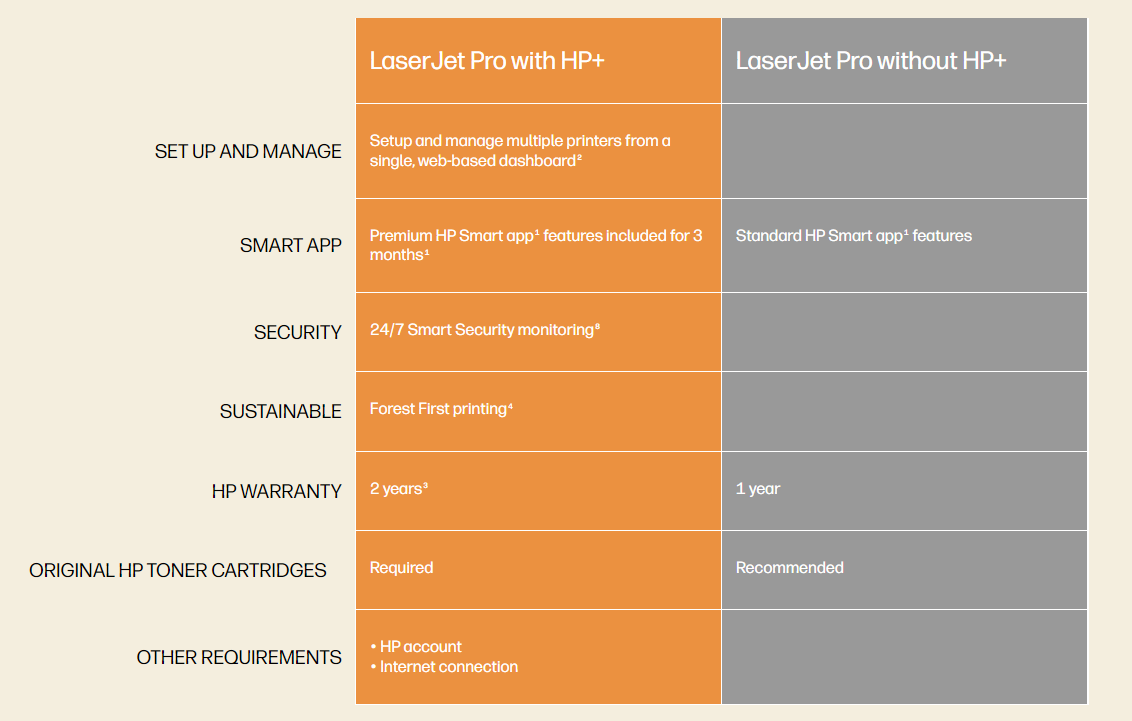 HP+ For Business Features
Always Connected With The HP Smart App
HP+ Printers are always connected to the internet. Whether you're at home, in the office or on the move, the HP Smart App can scan and print directly from the app to your printer. Plus, enjoy advanced scanning, mobile fax and productivity features for 2 years with HP+
Secure
Continuous monitoring and always up to date. HP+ for business include Intelligent security 24/7, keeping your printing private with user identification and automatic firmware updates, and making sure your printer is always up to date, fully protective and fully functional.
Effortless & Dedicated Support
HP+ offers easy remote management from setup to technical support. HP+ for business is a simple two-step process to link up with other uses. Set up the printer, and invite additional users, no matter their location. Having your HP+ printer always connected provides full control at your fingertips, the Smart Admin dashboard makes monitoring access and usage across multiple printers over multiple locations simple.
Sustainability To Protect The Planet
HP+ puts the planet first with a net zero deforestation promise and closed-look cartridge recycling. HP works with the WWF and Arbor Day Foundation to manage, restore and protect forests around the world. With HP+ every print is addressed through HP's Forest Positive Framework.
Instant Ink Trials
All HP+ printers include a free 3-month trial to Instant Ink, sign up when you receive your HP+ Printer for the trial and keep the subscription to save up to 70% on Original HP Ink or Toner, with free delivery before running out.
HP+ Printer
3 Months Instant Ink Trial
Extra Year of HP Warranty (Total, Two Years)
Advanced HP Smart App Solutions
Intelligent, Cloud-Based Connectivity and Security
Print Cartridge Recycling
Need More Help with HP+? Contact Us:
Or Chat With Us On Livechat
Need Help or More Information ?
If you need any further help or more information, reach out to us by leaving a comment below or through one of the many ways on our Contact Us page.
Alternatively you can contact us by Phone on 0161 308 5800 or by Live Chat on our main Website Monday to Friday and our team will be happy to help or answer with any questions you might have.
You can also find all the various ways to connect with Us at the bottom of this page. Please share this post if you found it helpful.