When you're working from home your home office printer solution needs to hit different criteria than larger office-base solutions. More of us than ever before are working from the home office, whether that's due to self-employment or flexible PAYE working conditions.
According to the TUC 1.6 million employees regularly worked from home in 2017 and four million more UK workers say they'd like to be able to do so.
Working from home means you might be using your home office printer for both work and personal use. It needs to be energy efficient and cost effective, compact enough to fit in a smaller space, but still capable of fast first page out and page per minute speeds.
Just because you're working from the home office you need to be able to count on a solution that works, and delivers a robust, secure solution. There's nothing more irritating than having a printer that just won't print! In fact, without an onsite IT team to help you'll likely need more peace of mind that installation, administration and troubleshooting can be undertaken with ease and speed.
Bearing these issues in mind, we've compiled a list of five quality printers that won't cost the Earth and work well within a home office environment.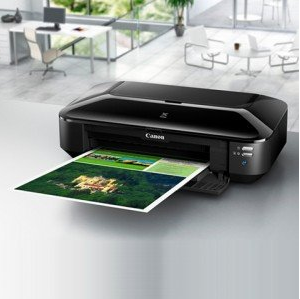 -A3+ inkjet printer
-9,600 x 2400 DPI print resolution – very good print quality
-Prints up to 300gsm paper weight
-USB, Network, Wireless, Airprint, Cloud Print, Mobile Print
-Borderless printing
-Compatible inks available
This inkjet printer caters for paper up to A3+ in size, which is ideal if you're looking for versatility in the home office – you can print everything from reports to posters – at a very high quality of print. And there's the gsm of up to 300gsm, which is perfect if you're looking to print on heavier paper.
Because it's an inkjet printer it's more cost effective to run as it uses less energy. As ink comes in liquid form it doesn't require heat to fuse it to the paper (unlike toner, which is used in laser printers).
You have the option, with the Canon iX6850, to use Canon's own ink cartridges. Or you can make financial savings using compatible ink options.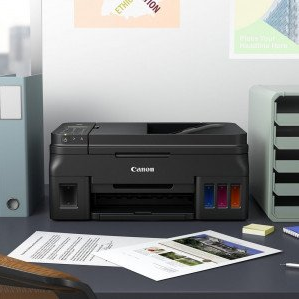 -Print /scan /copy /fax
-Borderless printing
-Print up to 275gsm paper weight
-Apple Airprint & Google Cloud Print
-Very low running costs
-Ships with 6,000 pages of each colour ink cartridge
Another good option from Canon is the Pixma G4510, which has the major benefit of very low running costs. Another significant advantage is that it comes complete with 6,000 pages worth of each colour of ink cartridge, meaning you can start printing from the word go without any extra expense.
For ease, this printer also offers the ability to print from mobile devices with Apple Airprint and Google Cloud Print.
-A4 colour laser printer
-Automatic duplex printing
-USB, network, wireless, Airprint, Google Cloud Print
-28 PPM print speed in mono and colour
-Ships with 1,000 pages of toner for each toner
-Max paper weight 220gsm
-Compatible toners available
One of our most popular and bestselling printers here at Printerbase, the Xerox Phaser 6510dni is an A4 colour laser printer with automatic duplex printing, enabling you to reduce your paper usage.
This is another model for which you have the choice to use genuine Xerox toner or our trusted compatibles in order to make savings.
-Print/ scan/ copy/ fax
-Amazon Alexa compatible & Apple Airprint
-Auto duplex print/ scan/ copy
-2 x 250 sheet paper trays
-Borderless printing
-Max paper weight 250gsm
The HP Officejet Pro 7740 takes home printing to another level, with its Amazon Alexa compatibility which allows you to print using your voice alone. Yes, we're living in the future. And it's awesome.
The HP 7740 is more than just a printer, it's a multifunction machine, which gives you the option to print, scan, copy and fax from a single piece of equipment. It's the ideal solution if you're trying to save space and conserve energy – running one machine is more efficient than powering four.
-Full colour label printer
-No cartridges, no ribbon, no toner
-Print between 9mm – 50mm wide labels
-FREE label software
-FREE 3 year manufacturer warranty
-USB, wireless and Airprint
And now for something a little different… the Brother VC-500W. This snazzy little label printer is ideal for organising the home office as well as branding up goods. It comes complete with design software so you can create labels to meet all your creative needs. You can find out more about the Brother VC-500W here.
Do you work from the home office? Please don't hesitate to get in touch to let us know what model you're using and why it works for you. Or contact the customer service team on 0800 170 7234 to find a printer that fits your unique requirements.