Solid wax ink technology was created and patented by Xerox many years ago. This unique, award-winning system substitutes the classic canister of ink with an innovatively designed block of black or coloured wax, which is then melted and transferred onto the media.
Capable of producing superb, vibrant prints every time, this exclusive printing method may just take you on a little trip down memory lane. As the wax melts, a crayon-like smell is omitted from the printer, immediately taking you back to those busy days spent colouring in the classroom. Seriously nostalgic!
Available only from Xerox, these printers do more than just produce great-quality prints – they're incredibly green, too. If you're looking to transform your office into an eco-friendlier place, then you needn't look any further. With 90% less printing waste and a low total cost of ownership, with these solid ink printers, you can save money and reduce environmental impact.
The only real negative when it comes to solid ink printing is that you aren't able to hot laminate, and the abrasion and UV resistance is notably low. However, there's nothing to stop you from cold laminating, instead. Cold laminating will neither damage or impact on the quality of your solid ink prints. Problem solved!
Right now at Printerbase, we stock three solid wax ink machines, and the fundamental difference between the three is the cost of print. By opting for the top model, the ColorQube 8880dn – one of our best-selling printers – you can get a very low colour page fixed cost which will soon recover the cost of the machine.
Our Solid wax ink hero model …
The Xerox ColorQube 8580DN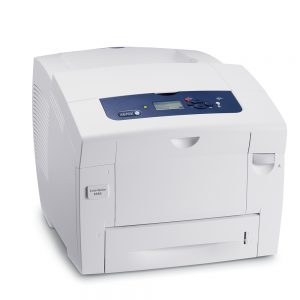 £348.00 ex VAT
£417.60 inc VAT
– Low total cost of ownership – save a whopping 70% on print costs
– Exceptional quality output thanks to Xerox Solid Ink technology
– 90% less waste than laser printers
If you intend on printing in high volumes, then I would highly recommend giving our managed print team a call. These guys are experts in the field, and will be able to help you take control of your print costs once and for all!
Xerox solid ink printer have been discontinued but the current Versalink line do an amazing job of filling the gap. To view our full range of Xerox VersaLink printers, click here.