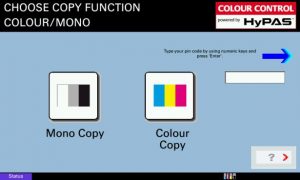 We are continuing our focus on the latest Kyocera HyPAS solutions with a closer look at the Kyocera Colour Control app and its capabilities.
The Kyocera Colour Control is an application designed for Kyocera colour multifunction printers that allow administrators to regulate access to colour printing – leading to the ability to control the cost of printing in colour throughout offices and schools.
Once the Kyocera Colour Control HyPAS app is installed onto the multifunction printer, the system shows an additional 'cost centre' display when colour prints are sent to the device – the user is then required to login – via an ID card, password or PIN – for colour printing access.  Mono printing, however, doesn't require any of these steps and is available as normal.
Control of the 'cost centre' lies with the administrator, who can determine exactly how much an individual may use the colour printing option, if at all.
The Kyocera Colour Control app is ideal for environments with open access to MFPs, as it offers a simple and effective way in which to measure and control both the access and cost of colour printing – saving organisations money on their overall print costs.
What are the benefits of the Kyocera Colour Control app from HyPAS?
Access and cost control of colour features
Simple management in the integrated account function
Colour systems are for authorised colour function users only
Easy operation without inputting a PIN when using mono printing