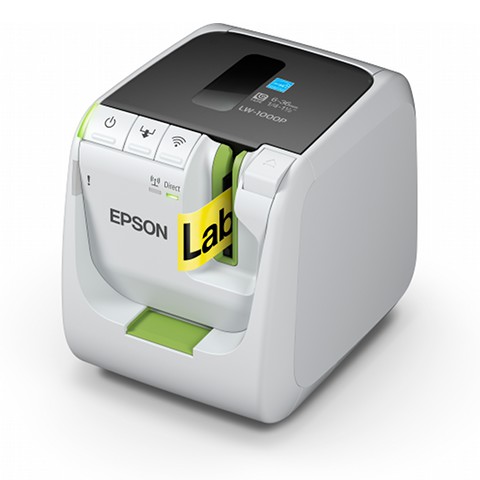 Two brand new Epson wireless label printers have been added to the printer manufacturer's range: the Epson LabelWorks LW-600P Label Printer and the Epson LabelWorks LW-1000P Label Printer.
These impressive Epson wireless label printers offer a wide selection of intelligent features for users – making them ideal for a variety of industries.
The Epson LabelWorks LW-600P is one of the smallest and lightest 24mm desktop label printers on the market, delivering an unrivalled level of portability, while the Epson LabelWorks LW-1000P offers plenty of connectivity choices, including Wi-Fi and wireless device-to-device printing.  As you can see, these Epson wireless label printers are suitable for all kinds of environments.
The Epson LW-600P offers great flexibility as it can be connected to a computer or used as a portable label maker. Bluetooth connectivity ensures multiple users can print without the need for any network. It is easy to use and fast, with three simple operating buttons and print speeds of up to 15mm/s at 180dpi.
The Epson LW-1000P is a versatile tool for large corporates, small and medium businesses, as well as maintenance industries, warehouse departments and factories. It provides multiple connectivity options, which include Wi-Fi, wireless device-to-device, USB/PC printing and Ethernet, which means it can be shared with multiple users, too.  The LW-1000P is Epson's fastest LabelWorks printer, with speeds of up to 35mm/sec.
The Epson LW-1000P provides the convenience of printing labels with widths up to 36mm. Features including tape end detection, full and half-automatic cutter and a top-loading tape feed contribute to the LW-1000P's effortless operation. An integrated trim cutter can also round label edges, which helps reduce peeling once labels are affixed.
Using the Epson iLabel app, these Epson wireless label printers enable users to print from both iOS and Android smartphones and mobile devices.
Ryan Hodgskin, retail account manager at Epson, discussed the Epson wireless label printers, saying: "We've enhanced our range with these two devices, with each label printer offering something compelling for customers. The LW-600P offers portability, while the LW-1000P offers superior connectivity choices.
"Adding these two printers to our range means that we fulfil our customers' growing needs while delivering great value for money for small and large businesses alike."
Get the Epson LabelWorks LW-600P Label Printer HERE!
Get the Epson LabelWorks LW-1000P Label Printer HERE!