When it comes to printers there's plenty of exciting technology to choose from. There are lots of elements designed to make your life easier, whether that's a touch screen, wireless functionality, business security benefits or the ability to scan and store info in the cloud. But none of these are more beneficial in a print emergency than the innovative-but-often-overlooked "run black" feature on Xerox printers. Here's why…
---
---
Why do we love run black?
Imagine you're printing worksheets for a class of 30 students, or pie charts for a boardroom full of colleagues. Now imagine your printer runs out of magenta, or cyan, or yellow.
You're minutes away from the meeting and you know that colour printers are typically unable to print until the empty toner cartridge is installed. You might only be lacking in magenta but it's no use changing the colours in your pie chart to varying shades of blue because your printer still won't play ball. Not until you've ordered a replacement for the empty toner.
With certain Xerox printers, however, you can simply switch to run black.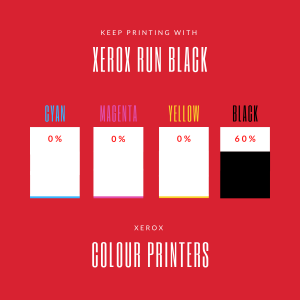 ---
What is run black?
This feature means that when your printer runs out of cyan, magenta, or yellow toner, jobs can still be printed in black and white. So when you desperately need that document printing, you have a back up when you run out of toner.
---
It's such a simple solution but it's one of our favourite things about Xerox printers here at Printerbase.
---