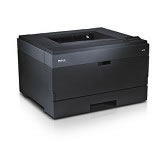 We have some fantastic deals on the Dell 2350d and 2350dn A4 Mono Laser Printers, so if you're looking for a new high-performance, reliable machine for your office – here's your chance to grab a great deal!
First of all, we have the Dell 2350d, which delivers high-performance printing of up to 38 pages per minute, as well as two-sided printing as standard. Now, with Printerbase, you can save over £55 on this machine and – as if that wasn't enough – you can also claim £50 cashback from Dell when you trade in your old printer.
The Dell 2350dn provides the same quality and performance as the 2350d, though it comes with the addition of being Network ready – making it ideal for your office needs. When you purchase the 2350dn from Printerbase, you get FREE three-year warranty and a FREE second paper tray worth £90 inc. VAT. Not only that, you can claim cashback on this machine, too – £75 from Dell when you trade in your old printer.
Grab these fantastic offers while they last!
Get the Dell 2350d or the 2350dn deals from Printerbase HERE!