Printing on heavy media? Perhaps for a brochure, or a postcard or maybe a banner or a light card box design? There's lots of reasons why you may need to do this and once you have the right ingredients, it'll be a doddle! So lets look at what you need and what things you need to consider to get started.
How do I Print on Heavy Media?
When printing on heavy media, you want to start by looking at two types of printer – laser and inkjet. Laser is generally used more in the business environment for brochures, point of sale materials, posters and more. A key advantage you get from a laser is the range of media available, whereas to get graphic or photo quality prints with an inkjet you would be limited to a coated media.
Laser prints generally deliver excellent colour quality. This is because laser toner is baked onto the surface of the paper meaning you don't lose any colour strength or vibrancy with various types of media. If you can also get a strong bright white paper, then this will help to deliver even stronger results. Actually picking a printer can appear to be one of the most difficult tasks but it all comes down to your needs. We have a wide range of A4 and A3 printers to choose from. Photo inkjets normally start at A4 size but most professional ones are A3+ and continue up to A0 large format sheet or roll fed machines. You're probably looking at six colours with entry level devices, while art reproduction printers typically contain 10 to 12 colours. So it really depends on what you're looking for and what you're printing. For a bit more information on paper weights, take a look at our breakdown on our post about printing on card.
What Paper Types can I use for Printing on Heavy Media?
The main paper types you should be looking at are matte, calendared (smooth finish), silk and gloss. These are all double-sided but we can supply a 'supergloss' on one side, which is mainly for making greeting cards as it gives you one side to write on. Supergloss should only be used with laser printers though as inkjet machines won't deliver the best results on this type of media. Alternatively, you could look at coloured media, which can be used as a really powerful marketing tool. Combine this with our Sunangel 32SW white toner printer and you'll be able to produce some stunning results.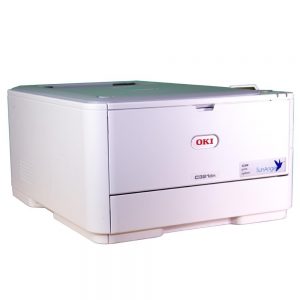 When deciding on the printer you'll normally find that A4 machines stop at paper weights around 220gsm (grammes/m2), while A3 machines usually do 256gsm to 280gsm like the Xerox C8000 range. Graphic SRA3 machines can do the heaviest, with a maximum of 350 or 360gsm like the Oki C911. Epson have a great range of 'signature' photo papers designed to be used with named printers to bring the best out of your image. At this level, you'll get really high quality prints with deep blacks, white whites and striking vibrant true colours. All the manufacturers art media printers will be profiled for the paper and manufacturer's will supply profiles for other well-known brands, for example, Hahnemuhle.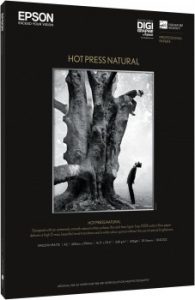 Whether you know what your needs are or not, if you pick apart the above and look at exactly what you need then it will be simple task printing on heavy media. Happy Printing!