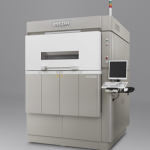 The release of a brand new Ricoh 3D Printer has been announced, with the device expected to be available to European customers by mid-2016.
The Ricoh 3D Printer, which is called the Ricoh AM S5500P, is a high-speed, high-quality device that is designed to help businesses meet their specific manufacturing innovation needs.
This Ricoh 3D Printer can print using PA6 and PP materials, both of which are of genuine importance to manufacturers, such as those in the automotive industry.
Coming with a large modelling area, this Ricoh 3D Printer can create various parts at the same time, as well as fabricate large parts all at once.
Ricoh launched their additive manufacturing business in September 2014 and, up until the new Ricoh 3D Printer, have been selling third-party 3D printers, along with a complete range of services, such consulting, 3D data and fabrication.
Peter Williams, Executive Vice President, Ricoh Europe, said: "The launch of the Ricoh AM S5500P forms a landmark in the near 80-year history of Ricoh and it is also a key milestone in the evolution of the additive manufacturing industry.
"As a company committed to innovation and supporting businesses as they evolve throughout the digital age, we are excited to bring a fresh approach and introduce a powerful new product with comprehensive end-to-end services.
"We look forward to formnext, where we will demonstrate the capabilities of the Ricoh AM S5500P in supporting high functional materials and creating multiple large parts simultaneously, in addition to showcasing our services portfolio."
The Ricoh 3D Printer will be at the formnext 2015 event in Frankfurt from 17th-20th November.