If you print photos or artwork you might wonder what the advantages of a pro photo printer are over your average desktop inkjet machine. 
You likely have a number of questions, for example:
– "Do I actually need one of these high-end photo printers?"

– "How will it help the quality of my photos?"
We'll do our best to help you answer these questions to determine whether a professional photo printer is for you.
Photo Printer Vs Traditional Inkjet
Whilst there are often similarities between the features available and functions they offer, professional photo printers offer several distinct advantages over typical inkjets. This is especially true if you're serious about printing high-quality photos. 
Pro Photo Printer Quality
Quality is almost certainly the key factor that should encourage you to invest in a pro model.
Professional devices such as the Canon Pro series or Epson SC-P range use multi-ink systems that consist of up to 12 coloured inks. Inkjets may offer a high-quality photo output in general but the ink sets of professional photo printers offer a much wider colour palette than the standard 4 colours used in a desktop inkjet. This makes for much more accurate colour reproduction that brings life and vibrancy to your images.
Heavy Media Support
Another element in favour of pro machines is the range and type of media (e.g. heavy paper or card) they can print on. These printers aren't limited to standard weight photo papers and they support all finishes of media including matt, gloss, lustre, satin, fine art paper and in some cases even canvas.
This versatility makes these printers not only suitable for photo-realistic output, but also allows the use of thicker card-stocks. This is ideal for craft applications such as creating custom stationery, wedding invitations and other artworks.
Banner Printing
Pro photo printers are also perfect for producing excellent quality panoramic images with cut sheet printing up to 17″ in length. Canon pro models in particular are an excellent choice for panoramic printing. You'll find it possible to print lengths of 22″ on the Pro-1000) and the ability to print on roll media with the Epson SC-P series.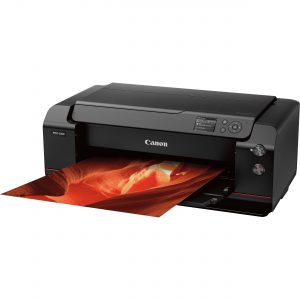 Direct Disc Print
Direct disc print is a feature found on several desktop inkjets, but also available on some professional photo models (Canon Pro 100S, Pro 10S, Pro 1 and Epson SC-P400 and SC-P600). This is a great way for photographers to customise discs of digital originals sent out to their customers.
Mobile Support
Mobile support isn't a feature exclusive to professional level printers, but it's an ever-increasing necessity for users. It's supported on all Canon and Epson wi-fi enabled professional printers so you can print from a host of mobile devices.
Use Airprint from your iPhone to instantly print photos to your printer or even send a photo via Google Cloud Print directly to the printer from wherever you happen to be at the time.
Whether you're an ambitious amateur looking to upgrade your printer, a professional looking to gain even more control over your print workflow or a home-based craft enthusiast, these professional photo printers are perfect for a range of needs.
View our full range of professional photo printers and photo media.