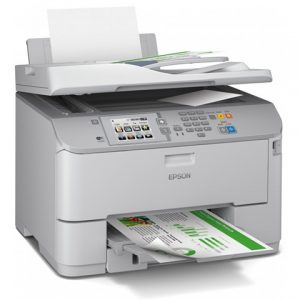 Epson PrecisionCore is a "laser-beating" inkjet technology, according to the printer manufacturer, who have added it to their new range of consumer and business devices.
The move of introducing Epson PrecisionCore inkjet technology has been heralded globally as the biggest threat to laser printing since its creation in 1976 – and, now, Epson have expanded on why it is so highly rated.
In a statement, Epson have revealed that is is the PrecisionCore MicroTFP print chip, which can be arrayed in various printhead configurations, that is at the heart of the Epson PrecisionCore technology.
Technology
Based on the thin film piezo (TFP) technology that Epson has been using in commercial large-format printers, the MicroTFP PrecisionCore print chip offers vastly improved basic performance compared to conventional piezo printheads, including faster speed and more accurate dot placement.
"PrecisionCore is the evolution of Epson's Micro Piezo proprietary piezoelectric inkjet print head technology developed by our current global president Minoru Usui in the early 1980s," said Epson Australia MD, Bruno Turcato. "Critically Epson PrecisionCore represents a true alternative for everyone who currently uses laser printers.
"Put simply by using Epson PrecisionCore technology when compared to laser printers in the same price range and class we can now offer better quality than a laser, better performance than a laser, better colour resolution than a laser at lower costs than a laser and using far less power than a laser."
PrecisionCore's thin film piezo printhead technology merges the latest advances in materials science and Microelectromechanical systems (MEMS) fabrication with Epson's deep portfolio of inkjet technologies providing a unique and unrivalled solution.
"PrecisionCore technology is also easily scalable, that's why it will be in products from the high-end commercial printers to everyday compact small office and home office printers," Turcato also stated.
What Does It All Mean ?
"This is a revolution in inkjet printing and finally means that people no longer need to rely on slower, more expensive laser printers."
Epson PrecisionCore's thin film piezo actuators act as pumps that fire droplets of ink just one micron thick or, in laymen's terms, 1/100 the thickness of a human hair. This level of precision and accuracy results in "incredible detail" and is further complemented by professional output quality at high speed by precisely controlling the droplet shape and volume at a rate up to 50,000 times a second per nozzle.
The end result is higher colour resolution, higher quality black text, colour graphics and images from Epson inkjet printers.
According to Turcato, the benefits don't end there, either: "The faster print speeds give greater productivity without any reduction in quality saving time and money. The prints produced are extremely durable due to advances in our ink technology that means they are smudge, fade and water resistant on plain and specialty papers which often have issues in laser printers.
"PrecisionCore printers also have up to 50% lower printing costs and remarkably up to 70% lower energy costs than laser printers. In today's cost conscious home and business environments, these cost savings are particularly welcomed."
One device that includes Epson PrecisionCore technology is the Epson WorkForce Pro WF-5620DWF Colour Inkjet Multifunction Printer.
Need Help or More Information ?
If you need any further help or more information, reach out to us by leaving a comment below or through one of the many ways on our Contact Us page.
Alternatively you can contact us by Phone on 0800 170 7234 and 0161 308 5800 or by Live Chat on our main Website Monday to Friday and our team will be happy to help or answer with any questions you might have.
You can also find all the various ways to connect with Us at the bottom of this page. Please share this post if you found it helpful.