One of the ultimate deciding factors when buying a new printer or multifunction machine is often how much ink the printer uses. In the same way that some cars drain fuel more quickly than others, some printers naturally use more ink , meaning some are much eco-friendlier and cost-effective than others.
It's all about finding the machine that gives you the maximum prints for the lowest possible cost. For example, on paper, photo printers aren't necessarily cost-effective on ink as they usually contain multiple inks and print at very high resolutions.
So, which printer uses the least ink?
It's difficult to pin-point one exact printer and label it the 'eco-friendliest' or the 'most cost-effective' machine, however, there are certain ranges that have been developed by manufacturers to excel in this regard. For instance, the Epson EcoTank range has been specially designed to work in conjunction with high-capacity inks that give you a low CPC (cost per copy), as do the Epson WorkForce pro machines.
Do eco-friendly machines usually cost more at face value?
As with all printers and multifunction machines, the face value cost varies. Generally speaking, there is no correlation between eco-friendly machines and a higher face value cost, however, there is evidence to suggest that counterfeit cartridges purchased at a lower cost tend not to last as long, and can even damage the printer itself. In some cases, counterfeit cartridges have been known to completely break printers.
Printerbase recommends
Here are a couple of our top-recommended printers for those who want to get the most for their money…
Epson WorkForce Pro WF-5620DWF
A4 Colour Inkjet MFP with Fax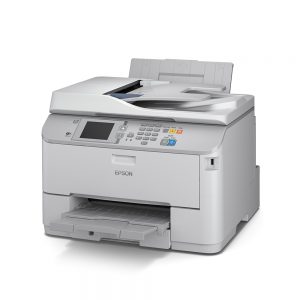 FREE 2nd & 3rd Year Warranty (Must be claimed within 30 days of purchase. Available until 31st March 2018)
Claim £80 Cashback (Offer valid until 30th September 2017)
£50 Cashback when you buy this printer + complete set of inks (Offer valid until 30th September 2017)
Automatic two-sided printing, scanning, copying and faxing – great for enhancing productivity and saving money
Uses up to 80% less power than competitive colour lasers – perfect for building an eco-friendly business
Up to 50% lower cost per page than competitive colour lasers – the ideal money-saving solution
PrecisionCore technology – Epson's most advanced printhead technology. Great for producing high-quality, vibrant prints every time
Epson EcoTank ET-4550
A4 Colour Multifunction Inkjet Printer with Fax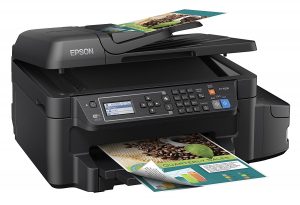 FREE 2nd & 3rd Year Warranty (Must be claimed within 30 days of purchase. Available until 31st March 2018)
Enough ink to print 11,000 pages – so you don't have to keep refilling the ink
Ultra-low cost printing – save up to 70% on printing costs
Double-sided printing – great for saving paper and building a more economical business
WiFi and apps – print easily from mobile devices
4-in-1 print, copy, scan and fax – everything you could possibly want, all at the touch of a button!
If you enjoyed this news post, please feel free to share it on Facebook and/or Twitter. Alternatively, stay tuned for more news posts coming your way very soon!
Happy saving!
The Printerbase Team