New releases from Canon are always worth being excited over. And that's just the case for the new Canon MAXIFY GX3050 & GX4050. These two multifunction printers are built with versatility and low running costs in mind, whether that's at home or the office. Here's the Printerbase Canon MAXIFY GX3050 and GX4050 review.
Canon
MAXIFY

GX3050 & GX4050 Quick View

The new Canon GX3050 and GX4050 are both great all-round printers for the home and the office, with some of the lowest running costs in their class while keeping the high print-quality Canon is known for.

Rating: 4/5

🖨️🖨️🖨️🖨️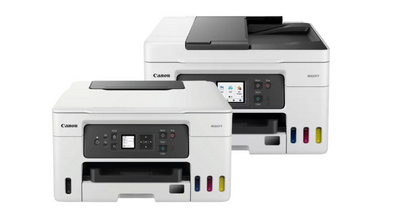 Differences:
Inside and out these printers are largely the same. However, there are a few key differences.
Connectivity: Both printers include USB and WiFi, but the GX4050 also includes Network (Ethernet) connections too.
Display: The GX3050 has a 1.35″  Mono LCD screen, whereas the GX5050 2.7″ Colour Touch-Screen.
ADF: Canon has kept the GX3050 with a flatbed scanner, to minimise the height. However, the GX4050 includes a 35-sheet automatic document feeder too.
Scanning: Both printers can scan to email, and the GX4050 can also scan directly to a folder.
Shared Standout Features
Print, Copy & Scan.
High-yield inks – Up to 14,000 prints.
A low total cost of ownership.
Space-saving designs for the home or office.
Print banners up to 1.2 meters long.
Fast print speeds up to 18 pages per minute.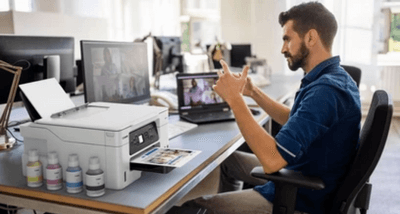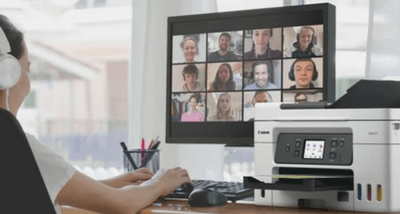 Cost Per Page, Total Cost Of Ownership (CPP/TCO)
Cost Per Page (CPP) is a vital factor when it comes to a new printer, especially when printing in large volumes. This is a simple calculation by dividing the cost of ink, by the page yield.
With a full set of ink bottles capable of up to 14,000 colour prints, these high-performance and high-volume mega tank printers can deliver huge savings on the total cost of ownership with the lowest cost-per-page in its class.
We can surely say the GX3050 and GX4050 are smart investments for any home or office.
Speed
Speed is the only place where these office printers can fall short, with the ability to print up to 18 pages per minute, they are by no means slow devices especially considering the InkTank aspect of the printer. However, in comparison to a standard ink cartridge-based printer, these are slower than the competition.
Quality
The Canon MAXIFY GX3050 and GX4050 are high-efficiency and high-performance printers, primarily designed around document-based printing yet still capable of printing photos and marketing banners.
Versatility often comes to mind when thinking about Canon, and the MAXIFY GX3050/GX4050 are no different. Whilst these are primarily document printers, these printers can still print a great image on A4 paper, even banners or paperboard up to 0.7mm thick. Making these compact and robust printers capable of printing high-quality marketing material and point-of-sale signage.
Canon MAXIFY GX3050 And GX4050 Verdict
Two great printers for the busy home or office, both offer fantastic print quality and amazingly low running costs.
However, with the benefit of the automatic document feeder and network connectivity, with minimal height increase, for a busy office, we recommend the Canon MAXIFY GX4050.
Need Help or More Information ?
If you need any further help or more information, reach out to us by leaving a comment below or through one of the many ways on our Contact Us page.
Alternatively you can contact us by Phone on 0161 308 5800 or by Live Chat on our main Website Monday to Friday and our team will be happy to help or answer with any questions you might have.
You can also find all the various ways to connect with Us at the bottom of this page. Please share this post if you found it helpful.