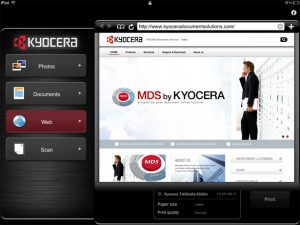 To make printing that bit easier, we have put together a short video that demonstrates how to use the Kyocera Mobile Print App – the perfect HyPAS application for on-the-go, fast-paced businesses.
Kyocera Mobile Print is a free HyPAS app that allows users to print securely from Apple and Android mobile to selected Kyocera printers and MFPs.  The HyPAS app also gives users the ability to scan files and images from a Kyocera MFP to their mobile devices.
You are put in complete control of your documents with the Kyocera Mobile Print App – there's no longer any need for you to be carrying physical copies with you everywhere you go.  They're all stored on your phone or tablet!
With the mobile workforce becoming more prevalent, printers have to keep up – which is exactly why the Kyocera Mobile Print HyPAS App has been introduced.  Employees working in various locations and virtual offices have brought forward a demand for instant access to documents and files – and what better way to deliver that than being able to print, copy and scan via a mobile device.  However, it is important for users to know how to use the Kyocera Mobile Print App correctly, which is why we are here!
Check out the video below, showing you how to use the Kyocera Mobile Print App: