Printers revolutionised the way we view and store data. Starting as basic text printers, to evolve into producing perfect photos, and lately creating 3D objects, as the rest of technology grew, so did printers. In this guide, we're going to look at the different types of printers available, their functions and the pros & cons of each type.
Popular Types Of Printers: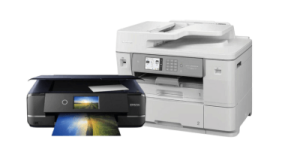 Inkjet printers can be found almost everywhere, they are the most versatile type of printer. Used in homes, offices, & small businesses, and range from cheap & basic printers to professional photo machines.
Advantages of Inkjet Printers:
Photo Printing
Affordable Initial Cost
Compact & Lightweight
Disadvantages:
Costly ink cartridges
Slower printing speed
Prone to smudging, especially when wet.
Inks can dry if left for long time periods
Best Use Cases:
Everyday Printing:
Inkjet printers are perfect for day-to-day printing needs, such as documents, school projects, and photos.
Creative Projects:
Artists and designers can benefit from the ability to print high-quality images and graphics for their creative thoughts.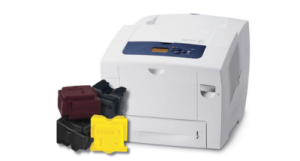 Solid Ink Printers, also known as wax printers, were a great alternative to traditional inkjet and laser printers. These printers use crayon-like solid ink sticks made from eco-friendly, non-toxic materials that are melted into a liquid before being applied to the paper.
Solid Ink printers were discontinued with the rise in popularity of laser printers, but the ink-sticks are still available.
Advantages of Solid Ink Printers:
Environmental-friendly
Vibrant and consistent colour output
Cost-effective
Disadvantages:
Longer warm-up time
Limited media compatibility
Higher initial cost
Print can sometimes be scratched off
Graphic Design & Marketing Material:
Solid ink printers excel at producing vibrant and detailed graphics, which makes them ideal for brochures, flyers, and marketing material.
High-Quality Photo Printing:
Photographers and creative professionals can benefit from the exceptional colour accuracy and sharpness of solid ink prints.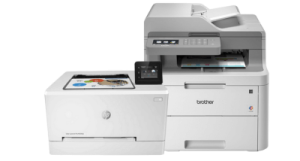 Laser printers are known for their speed, efficiency, and cost-effectiveness, which makes them the best printer type for businesses and offices with heavy printing requirements. These printers use a laser to generate static electricity on a drum, attracting toner particles that are then transferred onto paper to form text and images.
Advantages Of Laser Printers:
Fast printing
High-quality text
Lower cost per page
Disadvantages:
Higher initial cost
Expensive toner replacement
Bulky design
Best Use Cases:
Office Printing:
Laser printers are well-suited for busy offices that require a high volume of text-based printing.
Black & White Documents:
Laser printers are ideal for printing black-and-white text efficiently and economically.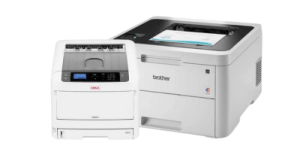 LED Printers are a variation of laser printers that use light-emitting diodes (LEDs) instead of lasers to create static electricity on the drum. The charged areas attract toner particles, which are then transferred to the paper to form text and images.
Advantages Of LED Printers:
Energy-Efficient
Precision and Reliability
Compact Design
Best Use Cases:
Shared Offices:
LED printers are well-suited for small to medium-sized businesses that require fast and reliable printing of text documents and reports.
Home Offices:
Home users can benefit from the reduced running costs and space-saving size of LED printers for their everyday printing needs.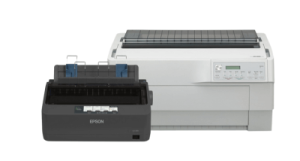 Dot Matrix printers are rarely used these days. However, certain industries still see their benefits. These printers work by striking an inked ribbon against paper using columns of small pins, creating dots that form characters.
Advantages of Dot Matrix Printers:
Reliability
Multiple Carbon Copies
Disadvantages:
Noisy operation
Very poor print quality
Best Use Cases:
Industrial Environments:
Dot matrix printers are beneficial in an industrial setting where durability and multiple copy printing are essential.
Accounting & Finance:
Though uncommon, some businesses still use dot matrix printers for continuous form printing, especially for financial records or expenditures.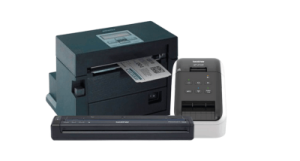 Thermal printers use heat to produce images on specially coated paper, which removes the need for ink or toner cartridges. These devices come in various types, including label, receipt, and portable printers. However, there are two types of thermal printers: direct thermal and thermal transfer. Most thermal printers are direct, but label printers often come in thermal transfer technology.
We have a dedicated blog for the differences between Direct Thermal and Thermal Transfer printing available here.
Advantages of Thermal Printers:
Quiet Operation
Low Maintenance
Fast & Reliable
Disadvantages
:
Direct printing fades over time
Thermal paper sheets can be expensive
Limited to black print only
Best Use Cases:
Retail & Hospitality:
Thermal printers are commonly used in retail stores and restaurants for receipt printing.
Logistics & Shipping:
Thermal printers are employed in the shipping industry for labels with tracking information.
Tattoo Stencils
The Brother PJ range of printers is used for printing Tattoo stencils using specialised "Hectograph" thermal Paper, creating a transfer safe for use on the human body.
Verdict
And there you have it. A guide to all the different methods of printing. From inkjet printers for everyday printing to thermal printers revolutionizing manufacturing, each type offers unique advantages and use cases.
When selecting a printer, consider your specific requirements, budget, and long-term use. Whether you are a photography enthusiast seeking high-quality photo prints or a business professional in need of document production, there is a printer that perfectly aligns with your needs.
If you're interested in how a printer works, why not look at our blog here?
Need Help or More Information ?
If you need any further help or more information, reach out to us by leaving a comment below or through one of the many ways on our Contact Us page.
Alternatively you can contact us by Phone on 0161 308 5800 or by Live Chat on our main Website Monday to Friday and our team will be happy to help or answer with any questions you might have.
You can also find all the various ways to connect with Us at the bottom of this page. Please share this post if you found it helpful.