Remember the Canon PIXMA IP110, the most popular mobile Printer on the market? This was a great printer with decent quality in a small package and fantastic running costs. After half a decade of dominating the mobile printer circle, Canon has refined this near-perfect printer and replaced it. With the release of the new Canon PIXMA TR150 replacing the ageing PIXMA IP110, this brilliant mobile printer has a new, modernised lease of life.
Canon PIXMA TR150 Improvements from the PIXMA IP110
New for 2020, the Canon PIXMA TR150 has refined every aspect of the Canon IP110 to make it easier to use. This has been done by including features, such as a simple button press to check the status of the supplied battery pack and a 1.44″ OLED display, which can show the current Ink levels, connection status and other required information. Even store five custom templates for accessibility and faster printing on pre-saved documents. And finally, USB Type-C connection for the quickest connection speeds possible.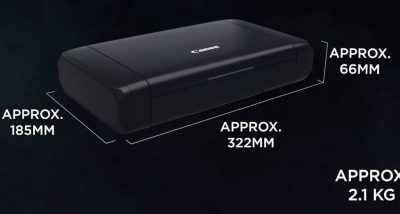 Canon Pixma TR150 Fantastic Features
The new Canon Pixma TR150 is the smallest A4 mobile printer on the market. At only 322mm wide and 66mm high It's about the size of a typical Subway Sandwich! However, don't think the size takes away any of the quality and great features.
Wireless print support at 2.4 or 5GHz
WiFi direct from your Mobile, no need for a Router.
1.44″ OLED display for simple and quick to read notifications
5 custom template storage for the most common printed documents
Borderless printing on all popular photo sizes up to A4
Built-in anti-theft lock providing additional security.
Mobile printing support from various apps, Canon PRINT, Mopria, Windows and Apple AirPrint
Optional Lithium-Ion battery which prints up to 330 sheets on a single charge
Photo quality print resolution up to 4800×1200
Portable Printing, From Portable Devices.
Your phone captures and shares most of your memories. And every new generation brings increased sharing features or a massive camera improvement. Which leads to the point where 'Point And Click' cameras are obsolete compared to the camera in your pocket. Why not print from the printer in your bag too? The Canon Pixma TR150 can be 100% portable with power from the optionally included battery capacity up to 330 prints. WiFi direct is included for truly mobile printing and support from the Canon PRINT app, available from the Apple and Android App stores
The Canon PIXMA TR150 has the optional battery pack. Which provides the option for a truly wireless printing experience. A USB Type-C input provides a relatively quick full charge of around two and a half hours, even charge on the move from a standard power bank, in the car or anywhere power is available.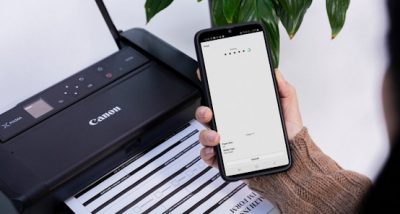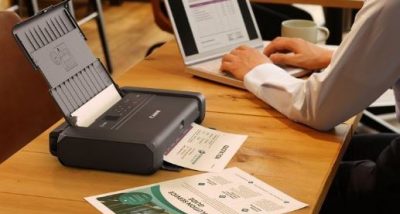 Is the Canon Pixma TR150 A Good Purchase?
The Canon Pixma TR150 appeals to a wide range of users. With the professional looks and clean design of a personal office printer to the portability of the battery-powered and bag sized profile for family days out. However, considering the small size leaves no room for popular features such as duplex print.
With two options to choose from, both with and without the battery pack. The Canon Pixma TR150 replaces the PIXMA IP110 and innovates on the older merits making this, the top-rated mobile printer available
Need Help or More Information ?
If you need any further help or more information, reach out to us by leaving a comment below or through one of the many ways on our Contact Us page.
Alternatively you can contact us by Phone on 0800 170 7234 and 0161 308 5800 or by Live Chat on our main Website Monday to Friday and our team will be happy to help or answer with any questions you might have.
You can also find all the various ways to connect with Us at the bottom of this page. Please share this post if you found it helpful.