The Epson EcoTank ET-8500 new range of Photo Printers, the ET-8500 (A4) and ET-8550 (A3) are here to take the world by storm with new and updated features, inbuilt A4 scanners, the highest quality from an InkTank based printer and even a motorised, lit feed to ensure the best print quality.
The Epson EcoTank ET-8500 and ET-8550 are high-end photo printers, with a six Claria Ink system featured for the first time in an EcoTank giving the known Epson top photo quality for a fraction of the running costs. Especially when the ET-8550 can reach A3+ paper sizes.
Despite a higher price point compared to the competition, namely the Canon ImagePROGRAF Pro-300. The new Epson EcoTank range more than makes up for this higher price thanks to the lower running costs and exclusive new features.
Released to replace the ageing ET-7700 and 7750 respectively. The new Epson EcoTank ET-8500 and ET-8550 have a suite of new features:
6 ink system (Claria ET Premium ink)
Pigment Black + Photo dyes (CMYK + Grey)
Grey ink for superior B&W photo printing
10.9cm touchscreen
1x straight pass feed (thick media up to 800gsm)
Motorised output tray
Epson Smart Panel app compatible
Smaller footprints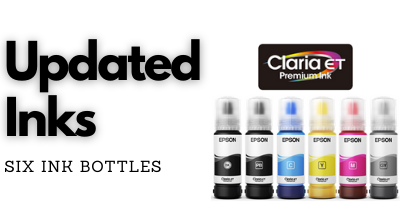 "These are printers aimed at creative people"
Claria ET Premium Ink
With yields estimated to reach up to 2,300 high-quality photos from a single set of ink bottles, costs under £100 provide fantastic running costs compared to other high-quality photography printers.
Usually, six ink-based printers, include an additional "Light Cyan" and "Light Magenta" ink. Epson has opted for a faster printhead to use a smaller droplet size, covering large areas in a light colour. Plus the blending of a new "Photo Grey" ink removes the need for a second Light Cyan/Magenta.
Despite missing the two "Light" inks, the Epson EcoTank ET-8500 printers don't lower their quality, with a wider than average colour gamut showing especially in the red, magenta and purple areas. This and the addition of a photo grey ink offering more neutral colours come together and make near perfect gradations between colour shades.
Each Epson EcoTank ET-8500 includes:
Pigment-based Black and dye-based Black, Cyan, Magenta, Yellow and Grey
Did You Know?
Photos using Claria ET inks can last up to 300 years when stored in an album.
Photo black and new photo grey ink for stunning Black & White photos with no more tiny from using a composite black ink for smoother, more accurate gradients.
And the pigment black ink for sharp text documents on plain paper, giving an office document quality.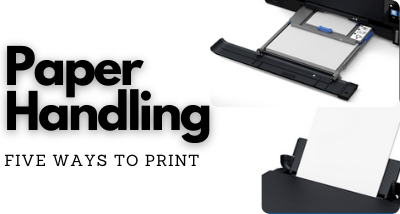 Multiple Paper trays and feeders, providing a suitable way to print any media.
Two Front Cassettes, capable of holding different paper finishes and sizes up to A4
Rear Tray, for holding thicker media which could bend through a standard tray and up to A3 paper sizes*
CD & DVD Tray for printing directly onto printable discs.
Straight Pass Rear Feed, capable of handling up to 800gsm (1.5mm thick)
Motorised Output Tray
New for the Epson ET-8500 series is a motorised output tray that can open automatically when the printer initially turns out, adding a new, ease of use feature. This can be turned on and off through the touchscreen controls too.
LED Downlighter
Another new feature on the ET-8500 range of printers is the LED downlighter, illuminating the printing path to give a clear view of the print as it's being done.
*A3 printing only available on the Epson EcoTank ET-8550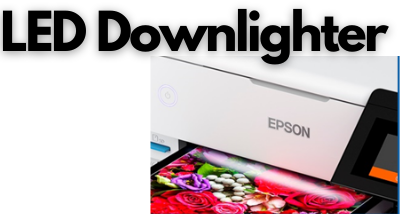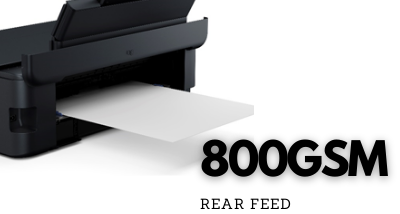 Epson printers are known for having high support of GSM, paper weight on their printers. The ET-8500 series is no different, being one of the only models on the market to support up to 800gsm poster board.
With the straight pass through the printer ensuring no bends or jams caused on using heavier than usual media.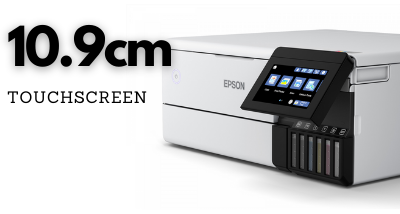 Another new improvement on the Epson EcoTank ET-8500 series is an improved 10.9cm touchscreen.
Replaces the previous 6.8cm LCD and its manual buttons
Tilt-adjustable, for a clear view, even when changing inks
Offset placement, keeping it out of the way of a paper path, no matter the angle
Easy to read localised text and help guides available on the printer itself.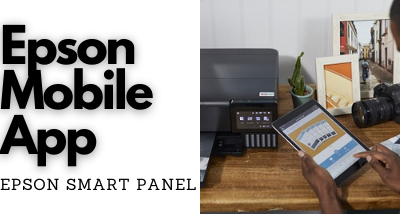 Mobile Printing is both convenient and simple to do and. The Epson Smart Panel app puts all the features of desktop printing right at your fingertips and works hand in hand with the Epson EcoTank ET-8500. A simple to use mobile interface allowing you to print, scan, monitor usage and even wirelessly set the printer up.
A customisable, innovative interface using tiles for each important feature with the option to remove the less used ones and easily rearrange the icons to suit a personal preference.
Register the product and order supplies remotely, even get basic troubleshooting tips through the Smart Panel app.
The new Epson EcoTank ET-8500 printers even come with the following, fantastic additional features.
Print directly from a range of options such as USB Sticks, Apple Airprint and new SD Card reader
Connectivity via all popular methods USB, Ethernet and WiFi
Everyone Can Print thanks to the ultra low cost, high yield and mess-free inks
Considering the host of new features when compared to the old ET-77 series of printers, the new Epson EcoTank ET-8500 printers have a smaller, more compact footprint.
ET-8500: 403 x 369mm compared to 425 x 359mm on the ET-7700.
ET-8550: 523 x 379mm compared to 526 x 415mm on the ET-7750.
The new Epson EcoTank ET-8500 range are both fantastic printers. Thanks to all the brilliant features crammed into a minimalistic and low-profile design and the huge touchscreen. With a great straightforward printout quality even being one of the thickest GSM supporting printers on the market.
The Epson EcoTank ET-8500 range, despite having a higher initial price more than makes up for it with the print quality and running costs.
Need Help or More Information ?
If you need any further help or more information, reach out to us by leaving a comment below or through one of the many ways on our Contact Us page.
Alternatively you can contact us by Phone on 0800 170 7234 and 0161 308 5800 or by Live Chat on our main Website Monday to Friday and our team will be happy to help or answer with any questions you might have.
You can also find all the various ways to connect with Us at the bottom of this page. Please share this post if you found it helpful.