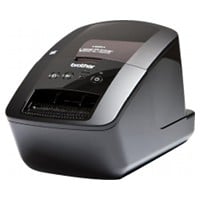 We've been informed today that Brother have discontinued the Brother QL-580N label printer with immediate effect but don't worry they have a replacement in the Brother QL-720NW which you will also be relieved to know takes exactly the same DK labels as the QL-580N.
The Brother QL-720NW has all the same features as the QL-580N but it has a faster print speed, so it can churn those labels out even faster and as well as having USB and wired network interfaces it now also boasts a wireless interface giving you complete flexibility of where you locate the label printer.
Plus at the moment Brother are running a promotion on the QL-720NW where you can claim a free 3 year warranty and £50 cashback, this offer is currently running until 31st August 2012 so check the QL-720NW page for the latest offer.
Here at Printerbase we really like the Brother QL label printer range, the software that comes with them is very easy to use and links in with most Microsoft Office applications so printing a label is as simple as highlighting some text and the pressing the label button and off comes your label, it really is that simple. We actually use the Brother QL-580N label printer in our office, so if you've ever received a parcel directly from our office then its probably had a label printed on it from the QL-580N.
If you need a label printer but don't need wireless or wired network then have a look at the Brother QL-700 label printer.