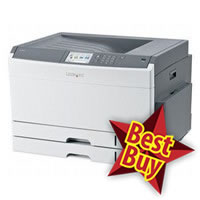 When Nick in our office first saw this offer his first words were "Wowzers!".
If you don't know who Nick is then head over to our YouTube channel and you will see him in action in our great printer review videos, his knowledge is probably second to none.
Back to the Lexmark C925de, thanks to a special deal with Lexmark we are able to offer this machine at half its previous selling price which makes it only £552.00ex VAT at the moment, which makes it currently our lowest priced A3 laser printer but don't let the low price worry you it is absolutely packed full of amazing features:
Ships with full size high capacity CMYK toners, so you're not going to run out of toner after printing only a few pages.
2 proper paper tray, so you can load the machine up with both A3 and A4 paper and you don't have to mess around with the trays every time you want to print A3.
Automatic duplex (double-sided) printing.
10.9cm Colour Touch Screen to make the machine very user friendly.
Plus we will even send you a free iPod Nano as well.
So if you're looking for an A3 printer, checkout the Lexmark C925de and find out why Nick thinks the deal is "Wowzers".
Lexmark C925de A3 Colour Laser Printer
p.s. If you're thinking about getting an A3 laser then I wouldn't think for too long as this offer is only whilst stocks last and we expect these machines to really fly out of the door.