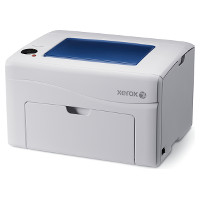 Xerox have released two new entry level A4 colour laser printers to replace their Phaser 6110 range, these new machines are no longer based on the Samsung engine used in the Phaser 6110 but on Xerox's very own new LED engine, which offers a whole range of improvements, including faster print speed, better quality and more compact in size.
The print quality produced is very impressive, for a machine of this price point the printed output rivals some of the higher end £500+ machines, thanks to Xerox's unique EA toner, which is chemically manufactured to produce smaller and more uniformed toner. If you want to know more about EA toner we suggest you read Xerox EA Toner Guide.
The two models are based on the same engine, with the Xerox Phaser 6010 printer having the benefit of built-in network connectivity to enable the machine to be shared across a network.
A4 Colour Laser Printer
Up to 12ppm mono print speed, 10ppm in colour
1st Page out in 17 seconds
600 x 600 x 4 dpi print resolution
64MB Memory
USB 2.0 interface (network on Phaser 6010)
150 sheet paper tray