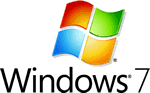 Following the release of Microsoft Windows 7 we are starting to get quite a few enquiries from people asking if a printer or multifunction printer is compatible with Windows 7.
Well the quick answer is that most of all the current printers we sell are compatible with Windows 7 with a download of the driver from the manufacturers website, however we have recently come across a few machines that are not compatible with Windows 7 and in particularly the 64bit version. If you can't find information on your printer from the links below let us know and we will check the status for you.
Most manufacturers state that new printers will not ship with Windows 7 drivers in the box unitl 2010, so for the time being drivers will have to downloaded, which is not a bad thing as often the drivers supplied in box can be out of date with the latest version available online.
It is a different story for older printers and multifunctions, with manufacturers concentrating on getting drivers written for all their current models, the older models have been given less of priority but the drivers are slowly becoming available but it is possible they won't supply drivers for all their previous machines.
Below are links to the manufacturers information pages on support for Windows 7 printer drivers, they give details of which printers have drivers available and the status for older printers:
Brother Windows 7 Printer Support
Canon Windows 7 Printer Support
Dell Windows 7 Printer Support
Epson Windows 7 Printer Support
Kodak Windows 7 Printer Support
Konica Minolta Windows 7 Printer Support – No information available
Kyocera Windows 7 Printer Support – No information available
Lexmark Windows 7 Printer Support – Inkjet Printers
Lexmark Windows 7 Printer Support – Laser Printers
Ricoh Windows 7 Printer Support – No information available
Samsung Windows 7 Printer Support
Xerox Windows 7 Printer Support