We know that Windows 7 was released in 2009 which is now quite some time ago but if you are looking for information or help with Windows 7 compatible printers then you have come to the correct place.
Our full list of Windows 7 compatible printers can be found by clicking the link below or maybe you are looking for Windows 10 compatible printers.
If you are still unsure about a Windows 7 compatible printer then give us a call on 0800 170 7234, email us or get in touch via Live Chat and we will be more the grateful to speak to you and offer you some advice on finding the perfect printer.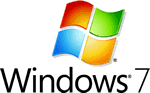 Whilst most manufactures will put the Windows 7 drivers in the box with the printer we always recommend downloading the drivers directly from the manufactures website, that way you are sure to get the latest Windows 7 driver.
Below are links to the manufacturers information pages on support for Windows 7 printer drivers, they give details of which printers have drivers available and the status for older printers:
Brother Windows 7 Printer Support
Canon Windows 7 Printer Support
Dell Windows 7 Printer Support
Epson Windows 7 Printer Support
Kyocera Windows 7 Printer Support
Lexmark Windows 7 Printer Support
If you still any help of advice on printers or Windows 7 compatible printers just give us a call on 0161 308 5800