With voice-activation, virtual assistants and integrated artificial intelligence becoming more and more prevalent in the modern world, it's time that all industries start catching up and in the print world, HP are taking that leap. Say hello to voice activated printing from HP.
HP's dive into the voice integration market will make them the first print hardware company to do so as they believe this is the prime moment to roll out voice support for all their Image Source: HP
web-enabled printers. This will come in the form of a skill for integration with Amazon Echo, Google Assistant and Microsoft Cortana.
Anneliese Olson, general manager and global head of home printing at HP says "Integrating voice into the home printer is an undeniably useful application of the technology. For busy families, the virtual assistant ecosystem makes a lot of sense and connecting a printer to it is a natural extension within the smart home."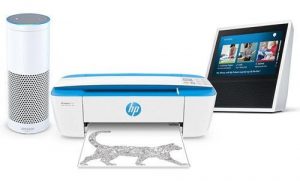 This seems like an obvious and overlooked opportunity when you begin to think about it with voice activation already embedding itself in the home from getting the news and listening to music to controlling your home heating and lighting. Plus, at CES 2018 (International Consumer Electronics Show), not only did virtual assistants and voice activation dominate proceedings but a range of surprising areas are beginning to be tapped into including car dashboards, toilets and mirrors so why not the home printer? Watch this space.
"Alexa, ask My Printer to print my shopping list"
Check out the excellent range of HP printers we have to offer.