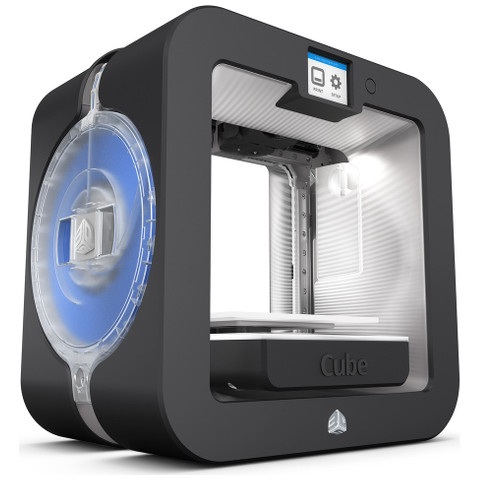 The technology behind 3D printing may seem confusing and complicated, though there are models that make it simple, even for beginners. The Cube 3 3D Printer is one device that makes 3D printing easy, which is why we decided to put together a video review of the highly-rated device from 3D Systems.
The Cube 3 3D Printer is from the latest range of models by 3D Systems and offers huge improvements on past devices.
Coming with a compact, modern design, the Cube 3 3D Printer offers intuitive touch-screen control over a whole range of features, such as mobile printing, making them simple to access and use.
The Cube 3 3D Printer has a two-jet print head system, allowing users to create multicoloured 3D creations.  There's plenty of colour to choose from, with 23 available in both ABS and PLA plastic.
There is simple-to-use software for both Windows and Mac, as well as an auto-levelling print pad, which makes the device incredibly easy to use – ideal for kids and beginners!  The Cube 3 3D Printer is fully certified for home use, too, so anyone can learn new skills in 3D printing from the comfort of their own home.
If you're looking for a 3D Printer that packs more power, then check out our CubePro Trio 3D Printer video review here.
Check out our Cube 3 3D Printer review below: