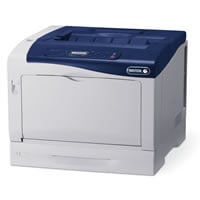 ITProPortal.com have given the Xerox Phaser 7100 their "best buy" award in a glowing review of the colour laser printer.
The Phaser 7100 is described as a printer that is "filling the niche" of a low-cost colour laser printer that is fully capable of printing at up to A3 size.
ITProPortal have praised the machine for its "good speed and strong output quality, most notably its above par graphics", going on to claim that it is "a bargain for an A3 colour laser printer".
It's not just the initial outlay that is impressive, either – with cost-effective high-yield toners and automatic two-sided printer meaning that there won't be any money wasted with this printer.
Finally, ITProPortal have said that this printer "should be a welcome addition to small or mid-sized offices or workgroups looking for an A3 colour laser" – and, here at Printerbase, we could not agree more.
You can also get £50 off the Phaser 7100N, as well as £200 cashback from Xerox – so make sure you don't miss out!
You can get the Xerox Phaser 7100 HERE!