There's lots to consider when printing photos. There are lots of photo printers on the market that will do an adequate job and while good quality digital images and a high-quality photo printer are essential when producing the best quality photo prints, picking the right type of photo paper is just as important.
Spoilt for Choice
There are many different papers available with different finishes, weights and sizes to choose from. Manufacturers often give their own brands of paper unique and interesting descriptions, however, they all broadly fit into a set of generic categories.
Gloss
Gloss coated media has a high-sheen finish and smooth texture which enhances the vibrancy of colour in an image and produces sharp and crisp output. Gloss media is great for all types of colour photos but should be handled with care to prevent marks and smears with fingerprints. Whilst the gloss finish enhances the look of an image, it's worth noting that from certain angles a glossy paper produces a glare – So make sure you've taken time to decide where you're displaying your photo.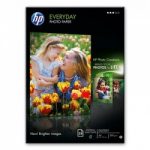 Matte
Unlike gloss media, Matte paper has a coating that has no sheen whatsoever meaning images printed on matte will often have less colour vibrancy than those printed on gloss. However, this makes matte paper ideal for a subtler finish, especially on black and white images where the low sheen and textured finish make the shades appear smoother and give a professional quality feel to the image. Glare is not an issue with Matte papers nor are they as susceptible to marking or smearing when handled.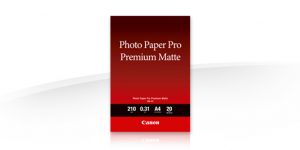 Semi-Gloss
These papers are essentially a hybrid of gloss and matte papers and share some of the qualities of both. Whilst the finish is not as shiny as gloss, it has increased colour vibrancy properties when compared to matte papers but without the glare effect of a glossy media. Semi-gloss papers also offer good shading gradation like a matte paper, making them a good choice for black and white imagery as well as colour.
Whilst Semi-gloss is the generic term for this type of paper finish, you may find that manufacturers often refer to them as Lustre, Pearl or Satin finishes instead.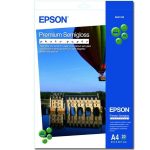 Specialist and Fine Art Papers
Made in the same way as traditional art paper, fine art media uses a 100% cotton rag that is ideal for reproducing artwork intended for long term display.
Paper manufacturers also make a host of specialist media with a variety of finishes such as Traditional Photo Paper. This replicates the effect of lab developed prints to Hot Press Bright, which is a 100% cotton rag with optical brighteners to bring out the vibrancy of your images.
Which to choose
The best photo paper for your images is entirely up to you of course. However, if you want to retain the most colour vibrancy then a gloss media would likely be the best choice. If you print mainly black & white images, then a matte or semi-gloss will make more sense.
We would recommend experimenting using different types of media so that you can see for yourself which papers really do your photos justice.
You can also check out our full range of photo printers here.