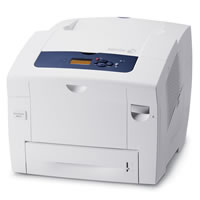 We have a brand new Deal of the Week and it's one you definitely don't want to miss out on!
The Xerox ColourQube 8870DN Solid Ink Printer is the go-to machine for busy offices with demanding workgroups, who also want to stay environmentally-friendly and keep costs to a minimum.
Through using Xerox's solid ink, the powerful 8870DN delivers some of the lowest running costs available, with mono print costs from only 1.2p and colour coming in at just 2.2p per page.
This powerful printer  packs great speeds, too – with speeds 40 pages per minute and the first page out in just five seconds.
The quality of print is exceptional also, with the Solid Ink printing process using the utmost precision to mechanically transfer the images or text onto paper of any quality.  Unlike inkjet printer cartridges, you don't need smooth, super–white paper to ensure the highest quality – the same vivid, strikingly clear prints are always produced with an ink–to–page transfer of almost 100%.
Find out more about about the innovative technology of Xerox Solid Ink.
If you're interested in this impressive machine, then now is the time to buy as, here at Printerbase, you can get a huge £300 off and also claim cashback with a Xerox trade-in.
Get the Xerox ColorQube 8870DN HERE!