HP Print At Your Service makes managing your printer, ink supplies and maintenance easy. It's the subscription plan that means you'll never have to order toner again – and saves you up to 50% on ink and toner.
Let's face it, maintaining your printing equipment and ensuring there's toner available is no one's favourite job. There are so many other, more important things you could be using your time for within your business.
That's why we love HP's new subscription model – HP Print At Your Service. You might have heard of HP's home user ink offering – Instant Ink – well this is a similar premise but for business users.
Fixed fee subscription printing
It's a cost-effective option that's built with businesses in mind. Instead of shelling out for the total cost of a new printer, you'll pay a single monthly fee that covers everything you need from your new printer to ink and toner, and maintenance and servicing.
It allows you to set a budget for your printing needs – and as every organisation is different, there are numerous plans available to meet the requirements of your business.
What do you get with HP Print At Your Service?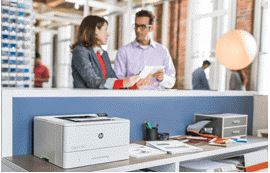 1. A brand new HP printer – you select from a wide range of HP models depending on what you need for your business. So, whether that's colour, mono, laser or inkjet, you can make your choice depending on what's right for you. Browse our full range of HP Print At Your Service printers here.
2. Ink and toner delivered when you need it – this is one of the best bits
of HP's subscription plan. You will never run out of ink or toner again because HP automatically sends you more ink as and when you need it.
3. Onsite service – printer problems can seriously slow a business down, which is why HP's onsite service is invaluable. HP's own dedicated engineers will visit your site to help fix any issues you might have so you don't have to source or pay for an engineer yourself. These things all help with ensuring your business can stay as productive as possible.
4. All for a fixed fee – making it simple to budget effectively, every HP Print At Your Service plan is delivered for a set monthly fee. If you need to adjust your plan you can do so every 12 months as necessary.
Interested in HP Print At Your Service? Talk to our team at Printerbase on 0800 170 7234 or find out more about HP's subscription print service on our website.