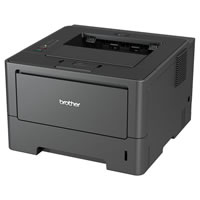 We have just sold the last of our stock of the Brother HL-5350DN and as this printer is now discontinued by Brother we will get no more stock.
It's replacement is the Brother HL-5450DN and we have these in stock now.
The models are very similar with the HL-5450DN offering some improvements with a faster 38ppm print speed and an increased memory of 64MB, the colour of the machine has been changed to an all black finish and as usual the new machine takes different toners to the old machine, however the running costs are very similar.
Watch our video review of the Brother HL-5450DN.
Brothers' range of HL-53 machines we all be soon replaced by the HL-54 range, so if you have existing HL-53 machines and you want to add machines you need to buy now before they are all gone.