The Best Laser Printer for Foiling
Toner foiling has become an extremely popular print method but with it comes a host of difficulties. Foil printing is a speciality printing process where metallic or pigmented foil is applied to a printed page via a heated die leaving the desired effect on the surface it was applied to. Metallic foils in colours such as gold and silver are most commonly used as it leaves a quite striking design that a lot of people look for in wedding stationery, invitations etc. The metallic foils shiny and radiant finish leaves a big visual impact.
The Difficulties of Laser Printing and Foiling and How It Works
The process consists of printing out a design onto your chosen media then passing the page with foil placed over the required areas through a hot foiler/laminator. The process of applying heat to it causes the toner to re-melt and become tacky, which in turn causes the foil to adhere to it. Once you peel the foil sheet away, the areas covered in toner now have a foil finish.
The process itself can be fairly labour-intensive and can not only require multiple attempts but can also be a costly process. Also bear in mind that A4 laser mono printers generally cannot print onto cardstock thicker than 220 gsm, with the one exception being an OKI machine at 256gsm, which we wouldn't advice using for this type of printing process. The other factor to consider is also the effectiveness of toner for the foiling process. The majority of new printers use a polymerised toner that results in a nice, crisp and shiny output but doesn't tend to lend itself to the foiling process.
Which Printer Should I Use for Foiling?
In the A4 range of machines, the only one we know has definitely worked for foiling is the Samsung M3820ND, and models up from this Samsung will also work. The limit on the paper weight is 220gsm via the single sheet bypass feeder though and the customers who purchased these are using a foiling machine as opposed to a laminator. Like their A4 counterparts, A3 mono machines are also restricted in both the media weight they can handle as well as having the same issue of not being suitable for foil.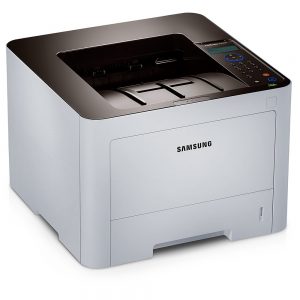 We've sent samples from a range of different devices for toner foil testing and have very little success with other brands outside of the Samsung machines mentioned.
Our advice would be to go ahead and use the Samsung ML380ND or similar Samsung machine so long as you're not looking to print on thicker media than 220gsm.
Handy Tips
• Ensure dust and other debris is removed before pressing the foil down.
• Use good quality laser suitable paper and good quality foil for better and more consistent results.
• Don't be tempted to put through the laminator/foiling machine a second time. This will almost certainly end in disaster!
• Give your foil a minute to cool down once the process is complete.
For a more in-depth look at the process of toner foiling and other methods such as hybrid printing, check out our Foiling and Photo Print news post.