Are you heading to College or University? Or are the little ones going back to school? We've got the best checklists and back to school essentials to keep you covered for the easily forgotten extras. We have featured everything from printable Iron-on name labels and label printers for school uniforms, papers and notepads for college and compact inkjet printers for university. A personal printer may sound much but can beat those expensive campus printing costs
Fabric Tapes and Iron-On Labels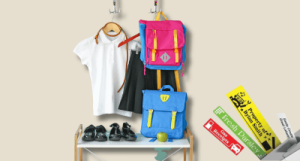 Iron-On Fabric tapes are printable labels with a strong adhesive backing that melts onto clothing when heated. The nature of iron-on labels means they can be printed and used as name labels or tags for children's school uniforms, workwear and cotton clothing. When ironed on, labels will withstand abrasions, scrapes and multiple washes.
See our list of suitable iron-on fabric tape label printers below. Most Brother P-Touch and GL label printers support them
Our iron-on name labels come blank. Which means they can be completely personalised. Blank tapes do not require much to print on. Load in a suitable label printer, design and print the label, then safely iron onto clothing. Leaving a label that could last the entire school year.
Stationery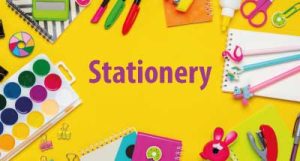 Did you know Printerbase sells Stationery too?
We have an entire section dedicated to Stationery needs, including everything from Notepads to the Pencil Case essentials.
Stationery is also included in our free next-business-day delivery, with no minimum order. Perfect for getting those last-minute missing items sorted.
Here's a list of all the necessary items for a perfect Pencil Case. Whether it's; Ball Point Pens. Highlighters. Correctors, Pencils, Pencil Sharpener, Eraser, Ruler, Permanent Marker, Calculator.
Printers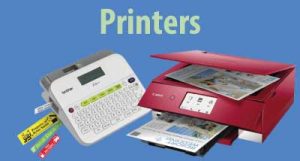 Printers are a must-have for schoolwork, especially when heading into higher education. But what makes a good back-to-school printer?
Small. Affordable. Versatile.
These are the three key aspects of a perfect back-to-school printer. Whether you're printing off the kid's homework, or covering the full page essays. A small and stylish Canon printer can cover all the basic needs from print, scanning, and copying your needs, a range of connections in the form of USB, Network and wireless, and even connecting to a mobile phone for on-the-go printing.
Checklist Downloads
We've made a couple of handy checklists to ensure even the most easily forgotten items get packed in a shiny new backpack.
Below are two free A4 PDF downloads. Just press the button below to begin, save the file and print them off for a handy guide on school preparations.
Need Help or More Information ?
If you need any further help or more information, reach out to us by leaving a comment below or through one of the many ways on our Contact Us page.
Alternatively, you can contact us by Phone at 0161 308 5800 or by Live Chat on our main Website Monday to Friday and our team will be happy to help or answer any questions you might have.
You can also find all the various ways to connect with Us at the bottom of this page. Please share this post if you found it helpful.