A Printerbase star is born!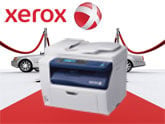 After arriving to us, our in-house Xerox Workcentre 6015 has made it clear to us that it's not only got excellent Print, Copying and Fax in its repertoire, but alongside those….an impressive acting resume. For the keen eyed viewers amongst you, our Workcentre 6015 can be seen doing it's thing in the second series of BBC One's highly acclaimed legal drama, Silk.
The first series of Silk attracted audiences of up to 5 million people and the second series commences this week aiming for even higher.
After the ban on product placement in UK television was lifted in February 2011, Xerox were one of the first companies to take advantage of this new promotional opportunity.
The WC6015 is already gaining glowing comments about its printing credentials such as "The Xerox Workcentre 6015 is a very competent multifunction colour laser that produces top quality output" "Text is sharp, with plenty of detail in mono photos" and "Colour prints are also impressive, with the Presentation option offering more vivid colours and greater detail". So grab one while you can before the bright lights and fame go to it's head and have it thinking it's better than the rest of us…….
Look out for our Xerox Workcentre 6015 and other members of the Xerox family throughout the series.
View our Xerox Workcentre 6015 video review here