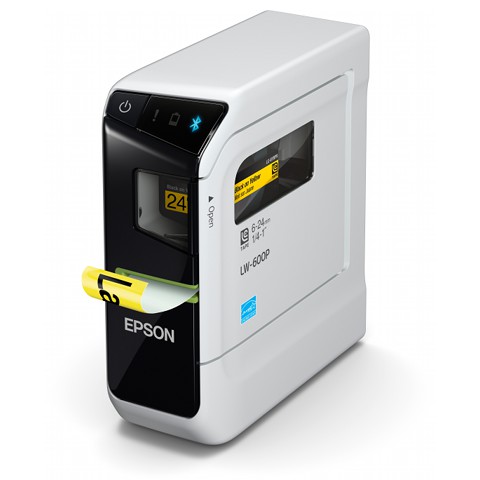 The Epson LW-600P Label Printer has been named as a finalist in the Devices & Gadgets category of CTIA's Hot for the Holidays Awards.
The awards recognise the most popular mobile consumer electronics, including gadgets and accessories for a variety of industries – with the ceremony itself taking place on September 10.
The Epson LW-600P Label Printer is the first app-enabled model on the market, offering users the ability to wirelessly print labels from iOS and Android devices.  The lightweight Epson LW-600P label printer uses Bluetooth connectivity to connect to both smartphones and tablets, too.
Compatible with a variety of unique tapes including glow-in-the-dark, satin ribbon, iron-on, fluorescent, cable wrap, polka dot, and more, the Epson LW-600P Label Printer opens up a world of label-making possibilities that go beyond simple adhesive labels. The corresponding iLabel app includes over 100 label design templates and 400 symbols, handwriting mode for custom drawing or annotation of labels using the touch screen interface, speech-to-text voice transcription and printing, and the ability to import custom graphics among other premium features.
"The Epson LW-600P Label Printer truly delivers unmatched capabilities in the world of label creation and makes the perfect gift for anyone looking to get creative or organise the home or office," said Anna Jen, director, New Ventures/New Products for Epson.
"For our success to be recognized in this way is incredibly rewarding, and speaks to the impact that Epson's innovative products have nationwide."
"CTIA awards recognize the best and most innovative products and services for wireless companies looking to improve their operations and their engagement with their customers. Perfectly positioned for retailers to prepare for the holiday buying season, Super Mobility Week attendees will see what will be the next hottest devices and services," said Robert Mesirow, CTIA Vice President and Show Director.
Here at Printerbase, we're big fans of the Epson LW-600P Label Printer, too – particularly as it's one of the most portable, lightweight options we have come across, not to mention the wide range of high-quality labels it is able to produce.
You can get the Epson LW-600P Label Printer HERE!