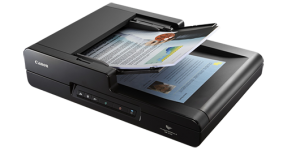 When it comes to network scanning on multifunction printers, it is often broadly divided into two separate categories. These categories are known as 'push scanning' and 'pull scanning', but what does this mean? Check out the definitions below to help you understand the difference:
Pull Scanning
The retrieval of the scanned document is initiated at the user's computer and is "pulled" from the scanner with software often included by the manufacturer. The most common pull methods are Scan-to-hard-drive and Twain.
Push Scanning
The scanned document is transmitted, or pushed, to a destination by the MFP using one of a variety of network protocols. This can be less straightforward and sometimes requires some knowledge on network protocols or assistance from an IT professional. The most common push methods are FTP, SMB and E-mail scanning. Look out for more posts on the methods of scanning available, which will help you choose what is the best setup for your home or office.
Need Help or More Information ?
If you need any further help or more information, reach out to us by leaving a comment below or through one of the many ways on our Contact Us page. Alternatively you can contact us by Phone on 0800 170 7234 and 0161 308 5800 or by Live Chat on our main Website Monday to Friday and our team will be happy to help or answer with any questions you might have. You can also find all the various ways to connect with Us at the bottom of this page. Please share this post if you found it helpful.