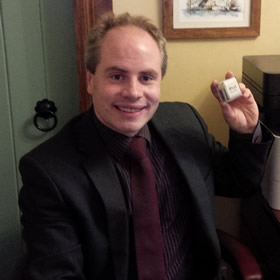 We have yet another winner in our fantastic Stick, Snap & Click competition, with valued Printerbase customer, Jonathan Drennan, landing himself an iPod Shuffle!
If you would like the chance to win prizes such as a 32″ television, a Sat Nav or an iPod Shuffle, then all you have to do is enter into the Printerbase Stick, Snap & Click prize draw.
How do you do this?  Well, it's this simple…
Stick a Printerbase Re-order Label to your printer (you can request one here if you don't have one)
Take a photo of the label on your printer with your smartphone or digital camera
E-mail the photo to 

[email protected]

 to submit your entry
And that's it – you're entered into the competition!
Mr Drennan was impressed with his prize – here's what he had to say about his win:
"I am delighted to win an iPod Shuffle in connection with the purchase of my Samsung laser printer. I have been really very pleased indeed with my new printer and the speed with which my order was processed by Printerbase.
"To be a winner in the Stick, Snap & Click competition really puts the cherry on top. Thank you very much, Printerbase!"
Check out the past winners of the Stick, Snap & Click competition here – don't forget to enter!
Need Help or More Information ?
If you need any further help or more information, reach out to us by leaving a comment below or through one of the many ways on our Contact Us page.
Alternatively you can contact us by Phone on 0800 170 7234 and 0161 308 5800 or by Live Chat on our main Website Monday to Friday and our team will be happy to help or answer with any questions you might have.
You can also find all the various ways to connect with Us at the bottom of this page. Please share this post if you found it helpful.