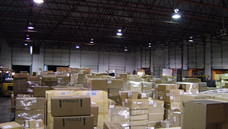 We would like to assure our customers that we're making every effort to ensure that deliveries arrive on time. However, the recent spell of bad weather is still affecting courier depots in Scotland and some parts of England and Wales. Although the snow has mainly cleared the backlog of parcels is leading to delays in some areas.
Royal Mail have suspended their Next Business Day Delivery Guarantee and have provided the following information: Royal Mail Severe Weather Update
The BBC have also reported on how the snow has affected services:
Tesco and Sainsbury's halt online orders in Scotland
The above link is just one article referring to how Tesco's and Sainsbury's have suspended deliveries within Scotland. While other home delivery companies and courier firms are braving the weather they have also been unable to fulfil deliveries on time.
Our couriers are getting through and many deliveries are arriving on time but we're asking all our customers in severely affected areas to please be patient. More snow has been forecast but we are keeping our customers updated as much as possible. We always recommend that customers stock up on essential supplies so delays don't affect the running of your company but at this time of year this advice is even more pertinent.
If you need any further updates please speak to our Customer Services department on 0845 230 7234.
Click on the "Comments" button to see further updates.