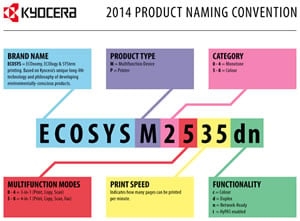 In January 2014, the new Kyocera product naming convention, which is designed to enable simple recognition of product functionality and type – all from simply reading the model name and number – was introduced.
Steve Mitchell, Group Product Marketing Manager, KYOCERA Document Solutions says: "The ECOSYS brand will appear in front of our printers and MFPs, highlighting our heritage in sustainable printing and the famously low environmental impact and low cost of ownership of our award-winning ECOSYS technology which is still unique after over twenty years."
The 'toner only' concept of the ECOSYS range improves reliability and dramatically reduces the overall printing expense by reducing direct and indirect costs generated through the lifetime of each device. In the latest devices waste is significantly lowered and TEC values have been reduced by up to 40%.
The ECOSYS name stands for: ECOlogy, ECOnomy and SYStem printing. With their long-life components ECOSYS devices are designed to maximise durability and to minimise the total cost of ownership. These new products embody the principles of award-winning ECOSYS technology, offering the customer low running costs whilst reducing the impact on the environment thanks to their adherence to the very latest Blue Angel and Energy Star standards.