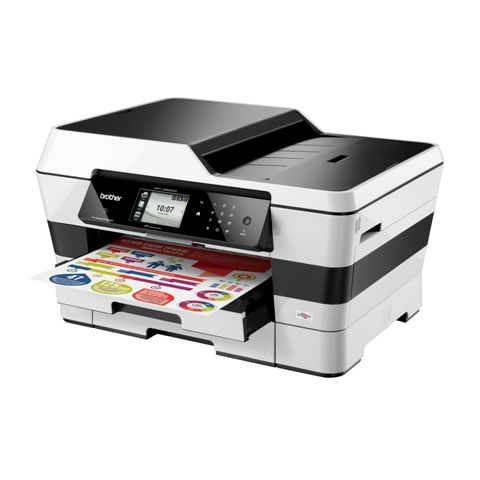 Here at Printerbase, we always like to bring you a comprehensive look at the printers that we have on offer – and that's why we've decided to do a Brother MFC-J6920DW review.
This very impressive A3 inkjet printer has been highly rated since its release, but what exactly does it offer?
Well, the MFC-J6920DW is part of Brother's small business inkjet printer range that they introduced last year – they included A4 printers that offered A3 printing capabilities, however, this has been expanded with true A3 printers, like the Brother MFC-J6920DW.
The Brother MFC-J6920DW offers everything that you'd expect from a modern, all-in-one inkjet, with print, copy and scan capabilities, two-sided printing, as well as an array of intelligent apps, including mobile, cloud and NFC printing – all of which are controlled by an easy-to-use 9.3cm LCD colour touch screen.
It's often recommended as the best printer of its type – and, to be honest, it's hard to disagree with such a positive endorsement, as it really does deliver on a consistent basis.
Also, when you add in its fantastic print costs, its pretty much the perfect choice for any business that hopes to add power, productivity and genuine quality to their print setup.
Don't just take our word for it, either – our customers love it, too…
"Good value. I was searching for an affordable A3 printer and scanner and came across to Brother MFC-J6920DW… The feature that I really like is the NFC function, where I can just directly print from an NFC enabled device, via placing the device on the left of the screen" – Syukri Raisdi, Kent
Check out our in-depth Brother MFC-J6920DW review, which has been put together by our resident print expert, Nick Simpson:
You can get the Brother MFC-J6920DW HERE!